Failed to create a new PST service error
This article is meant for users of CodeTwo Public Folders. This software has been discontinued. You can check the list of currently available CodeTwo products here.
Problem:
Your mobile device is not able to synchronize folders shared with CodeTwo Public Folders and an error as below is displayed when attempting to synchronize shared folders:

CreateMsgService failed. Failed to create a new PST service. Element not found (MAPI_E_NOT_FOUND) (0x8004010f)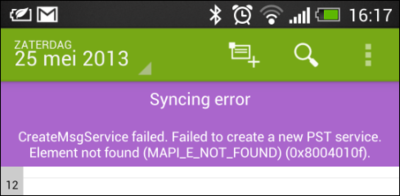 Fig. 1. The error message visible on a mobile device screen.
Solution:
To solve this problem please follow the steps below on the machine where the Syncing Master is installed:
If there is no MS Outlook installed on your Syncing Master machine please update your Microsoft Collaboration Data Objects (CDO):

Go to your Windows Control Panel, Add/remove programs or Programs and Features and uninstall the CDO.
Download the newest version of CDO from Microsoft Download Center and install it.

Add PST provider to the MAPI service in MAPISVC.inf. You can do this using MFCMAPI tool:

Download the MFCMAPI tool and run it.
Go to Profile, Advanced profile, Add services to MAPISVC.inf
Close the MFCMAPI tool.

Run Windows Services menu: Go to Windows/Start, Run or Search programs and files, services.msc
Stop the C2PublicFolders service.
Go to your CodeTwo Public Folders installation folder. By default this is:


C:\ProgramData\CodeTwo\Public Folders\Syncing Master

However, the installation path may differ between Windows versions and if you customized it during the program's installation.

Go back to your Windows services menu and start the service C2PublicFolders.