Error: There is no email program associated to perform the requested action
Problem:
You get the following error message (Fig. 1.):

There is no email program associated to perform the requested action. Please install an email program or, if one is already installed, create an association in the Default Programs control panel.
Solution:
This problem concerns various Outlook related programs as well as programs that use Microsoft Messaging API and Collaboration Data Objects (CDO). If you experience this error with CodeTwo software, see the sections below to learn about the probable causes and solutions.
CodeTwo Exchange Sync
If you get the described error when you install CodeTwo Exchange Sync, the most probable cause is that CDO is outdated or missing on your machine. The CodeTwo software comes with the appropriate version of CDO: you can click OK in the error window (Fig. 1.), and the software will allow you to install the missing component (Fig. 2.).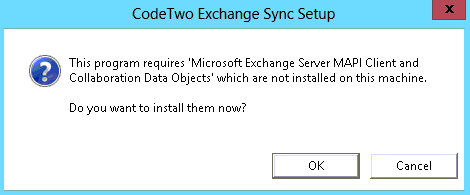 Fig. 2. A pop-up window that allows you to install MAPI CDO.
If you do not see the dialog box shown in Fig. 2., minimize all other windows because this dialog box sometimes opens underneath all other windows.
Important
Always use the CDO version supplied with the CodeTwo software, to avoid compatibility issues or problems with old bugs.
If the installation of CDO causes problems on your machine, make sure that:
there are no old MAPI profiles configured on this machine (you can check and remove them via

the MFCMAPI tool

),

you uninstalled any previous versions of CDO on your machine (you can do that from the Windows Control Panel),

the machine is free of any other programs that use MAPI (e.g. MS Outlook, BlackBerry Server), or third-party MAPI libraries,

you are not trying to install the newest version of CodeTwo Exchange Sync on Small Business Server 2003 (SBS 2003): the newest version of CDO supplied with CodeTwo Exchange Sync (and required by it) is not compatible with SBS 2003.
Tools and programs for Outlook
If you use CodeTwo programs dedicated to Outlook, the problem may be related to CDO or MAPI profiles, libraries and third-party software - see the previous section for details and solutions. The error shown in Fig. 1. can also be caused by one or more factors from the list below:
Microsoft Outlook is not installed on your machine.
The program you are trying to install is not compatible with your version of MS Outlook.
The Outlook version on your machine is supported, but you have never used it before, and the MS Outlook profile has not been configured. To solve this problem, launch Outlook to create a profile or follow the steps from this article.
Your Outlook profile is corrupted (you might need to delete it and create a new profile).