Diagnosing CodeTwo Exchange Sync
Problem:
How to collect and deliver required diagnostic data for CodeTwo Customer Support team.
Solution:
Please follow the steps listed below:
Start the Administration Panel of the software, click the Logs button on the ribbon, and then click Send in the Log files window that opens (Fig. 1.). If you cannot run the software or even install it, please contact CodeTwo Customer Support

.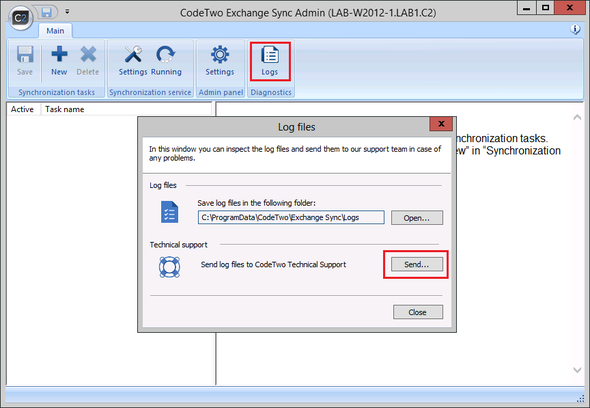 Fig. 1. Accessing a contact dialog box.
A contact form will open (Fig. 2.). Provide a short description of the problem along with your license key (if you already are a licensed user) and your ticket number (if you have a case open with us).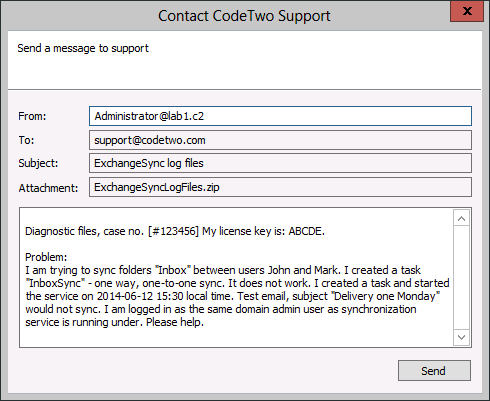 Fig. 2. Contact form used in CodeTwo Exchange Sync
to send diagnostic files to CodeTwo Customer Support.
In some cases, however, the first two steps may not be enough. Additional details and files are sometimes required to properly analyze the case. Providing the following details straight away when opening the case will speed up the troubleshooting process. Please be aware, however, that attaching more files or embedding images is not possible when sending emails via the program's contact form (see Fig. 2.) so you need to use our file upload form instead. Make also sure to provide more details about the environment in which you are trying to run our software:

What is the Windows version of the machine on which our software is installed? Is it a workstation/dedicated server or maybe you installed the software directly on your Exchange? Is it a physical machine or a virtual one?
What is the Windows version of your MS Exchange Server machine and your Domain Controller (in case these are separate machines from the one on which CodeTwo Exchange Sync runs) and what is the version of MS Exchange Server itself?
Is it a multi-server environment? If so, is it a mixed environment (with different Exchange Server versions)?
Is there anything special about your environment, such as you are using Terminal Services, Citrix, etc, or other software using MAPI (e.g. MS Outlook, BlackBerry Server, CodeTwo Exchange Folders)?

If the synchronization service works, please perform a synchronization test, i.e. try syncing a newly created item with a distinctive name, e.g.

C2SyncTest1

and export log files manually after that (see Fig. 1. for the path to the log files or access

CodeTwo\Logs

folder in your

%programdata%

folder directly by using Windows File Explorer).
Attach the

C2ExchangeSyncSettings.dat

file from the

CodeTwo\Exchange Sync

folder in the

%programdata%

folder to provide us with your settings.
In cases regarding software crashes or the performance of the synchronization service, export your Event Viewer system and application log files (compress the .evtx files into a single .zip file).
Provide us also with the diagnostic data of the Autodiscover service (learn how to do so here).
See also:
---
| | |
| --- | --- |
| Related products: | CodeTwo Exchange Sync |
| Categories: | Troubleshooting |
| Last modified: | 2021-05-06 |
| Created: | 2012-12-14 |
| ID: | 277 |