How to use connections created by other users in CodeTwo Backup
Problem:
CodeTwo Backup does not allow you to use server connections or edit jobs that use server connections configured by other users.
Solution:
CodeTwo Backup can be operated by any local user account that has access to the machine where the program is installed. However, server connections configured by one user cannot be used by another user in a backup job. Furthermore, backup jobs that use server connections created by one user cannot be edited by other users. This is the program's safety mechanism, used to prevent unauthorized users from accessing data from your Exchange or SharePoint servers (by backing them up using these server connections). Users can still use any server connection defined in the program when configuring restore jobs.
Important
All CodeTwo Backup users have access to the same backup storages. However, to prevent other users from viewing the contents of a specific storage, be sure to protect that storage with a password. Learn more
If the user who created a particular server connection cannot be reached and you still need to use that connection or edit a backup job that uses that connection, you can:
reconfigure a server connection
provide the password of the admin account used to configure a server connection (applies only to on-premises Exchange and SharePoint server connections)
Reconfiguring a server connection
First of all, make sure you are logged to Windows with an account that you normally use to run CodeTwo Backup. On the Dashboard tab, click the Manage (

) button on the Defined server connections card, select a connection you want to use and click Edit (Fig. 1.).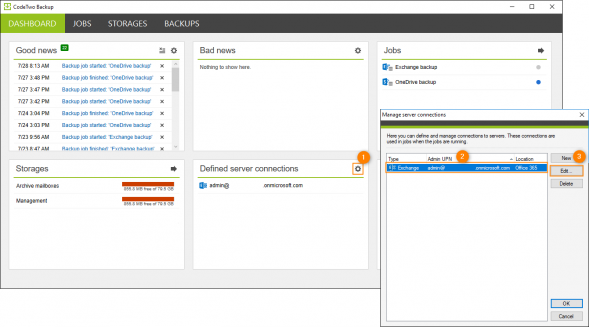 Fig. 1. Editing an existing server connection.
The server configuration wizard opens. Use the links below to open a step-by-step guide on how to reconfigure a connection to:
When asked, be sure to provide credentials of a user account from the same environment (Microsoft 365 tenant or on-premises server) to which this connection has been originally made (unless you want to connect to a different environment). Note that the server connection name consists of an email address / UPN of that account (see Fig. 1.). This will allow you to identify the environment.
Providing a password of another admin account
While creating or editing a backup job, when you select a server connection to an on-premises Exchange or SharePoint server configured by another user, or when you attempt to edit a backup job that uses such a connection, the following window will open (Fig. 2.):

Fig. 2. A window requesting credentials of the admin account used to configure the indicated server connection.
To be able to use that server connection, or edit that backup job, provide the password of the admin account indicated in the Server connection password window and click OK. This is the same account that has been used to configure that connection. You will be asked to provide this password each time you:
close the backup job you are currently editing;
close the Administration Panel of CodeTwo Backup.
If you don't know the password, or you don't want this window to keep appearing, you need to reconfigure that server connection.