You are not able to resend a message updated by SIU
Problem:
You cannot use a resend option for a message processed by the Sent Items Update service (SIU) of CodeTwo Exchange Rules PRO or CodeTwo Exchange Rules family software. The attempt to resend the e-mail ends with the following error message in your Outlook:

You do not have permissions to send the message on behalf of the specified user.
Solution:
The problem seems to have its source on the environmental side and it is connected with some configuration of the permissions. To diagnose this issue two .msg files from the Sent Items folder are needed: the one processed by SIU and the one which has not been processed. You need to compare the properties of those messages - check info about senders - an address type. If they are different (i.e. one is the SMTP and the next one is EX), it could be a reason of the problem. To view the properties of the item saved as .msg file you can use a free MFCMAPI tool.
If you encounter this issue, zip the .msg files and a set of standard diagnostic files, then use our file upload form to send them to CodeTwo Customer Support.
To obtain the unprocessed message from Sent Items folder please tick the Create copy of the original message when updating Sent Items option (Settings, Sent Items Update tab, Configure, Fig. 1.) and then send a message to yourself. After that copy both messages (updated by SIU and not updated one) from Sent Items to your desktop, zip them and send them to CodeTwo.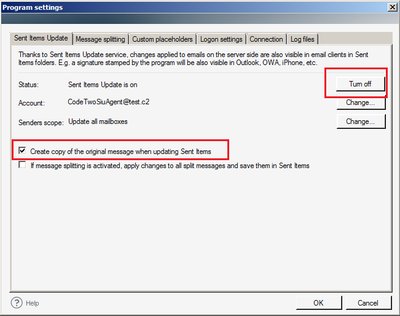 Fig. 1. The SIU configuration window in the Exchange Rules Pro 2.
---
| | |
| --- | --- |
| Related products: | CodeTwo Exchange Rules 2.x, 3.x, CodeTwo Exchange Rules 2007 1.x, 2.x, 3.x, 4.x, CodeTwo Exchange Rules 2010 1.x, 2.x, 3.x, CodeTwo Exchange Rules 2013 1.x, 2.x, CodeTwo Exchange Rules 2016 1.x, CodeTwo Exchange Rules 2019 1.x, CodeTwo Exchange Rules Pro 1.x, 2.x |
| Categories: | Troubleshooting |
| Last modified: | April 8, 2019 |
| Created: | September 19, 2014 |
| ID: | 423 |