How to avoid detecting local contacts as internal senders
Problem:
Rules designed to cover only your internal users seem to be applied also for some of the external ones.
This Knowledge Base article is designed to be used only with the version of the software listed in the Applies to section on the right pane. Earlier or newer releases may either not be affected by this issue or the below described workaround is not applicable.
Solution:
This problem emerges when the CodeTwo software processes emails sent to or from external users who also happen to be contacts added to your Active Directory. This is normal but not so obvious behavior of the software to which there is a simple workaround.
To avoid such an issue, instead using Sender is internal condition, you may include all users in your domain(s), using their e-mail addresses. Follow the steps below to modify your rule to apply actions only to internal senders:
​​Remove "Sender is internal" condition
Add "Sender matches e-mail address" entry
Fill newly created entry with "*@yourdomain.com", so in this example it will be "

*@codetwo.com

"

Please note that asterisk (*) character stands for any e-mail address in your domain. Additionally, if you have more than one domain, you may separate them using semicolon (;) sign, e.g. *@codetwo.com; *@codetwo.de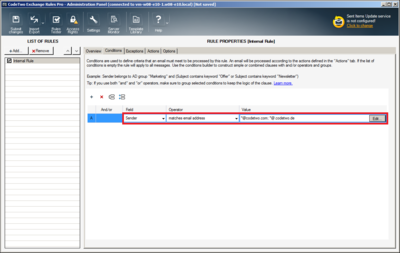 Fig. 1. Configuration to apply rule only to internal users
See also: