How to change the update time for Active Directory values in CodeTwo Exchange Rules products
Problem:
The Active Directory data used by CodeTwo Exchange Rules Pro 2.x or CodeTwo Exchange Rules family software in placeholders and conditions is not refreshed automatically after having been modified in AD. You need to wait a while to see the updated values in rules and signatures.
Solution:
By default, the AD data is refreshed in CodeTwo software every hour, as this is the optimal value from the software and server performance point of view. However, the Administration Panel allows you to force the CodeTwo Exchange Rules Service to update the AD information on demand. When you change some values in AD and want them to appear in Exchange Rules immediately, you can simply restart the Exchange Rules service directly in the Administration Panel by using the Server Monitor button (Fig. 1.).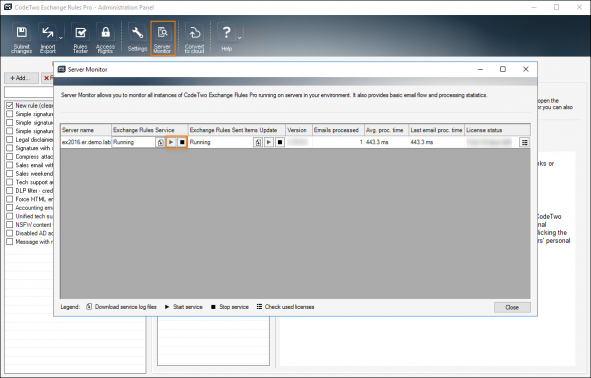 Fig. 1. Restarting the Exchange Rules Service.
If you want the AD data to be more frequently refreshed on a permanent basis, you can change the updating interval in one of the program's configuration files. To modify the updating interval, so that it fits your requirements, follow these steps:
Go to the following folder:

%ProgramData%\CodeTwo Exchange Rules\Config

and open the file EngineService.xml


If you use a version of CodeTwo Exchange Rules older than Pro 2.3.0, 2007 4.3.0, 2010 3.3 or 2013 2.3, update your installation by downloading and installing the latest version of the software. Depending on your license, you may or may not be eligible for a free update. Please consult CodeTwo Support if in doubt.

Search the file for these two entries:

<CacheGroupRecordsTTL>3600</CacheGroupRecordsTTL>
<CacheUserAdRecordsTTL>3600</CacheUserAdRecordsTTL>

Change the values from default 3600 seconds (1 hour) to the desired ones. We strongly recommend that you keep the value above 300 seconds (5 minutes). If the updating time is too short, frequent AD queries may affect the performance of your domain controller(s).
Save and close the file.
Restart the Exchange Rules Service directly from the Administration Panel as shown in Fig. 1. above.