Setting up email signatures & disclaimers on Exchange Server
Built-in features
Follow the steps below to deploy a personalized email signature for any scope of users on Exchange 2019/2016/2013/2010:
Prepare an HTML email signature template with Active Directory placeholders (e.g. using our Email Signature Generator for Exchange Server)
Configure an Exchange transport role utilizing the template, according to the guide which corresponds with your edition of Exchange:
Note: If you are running Exchange 2007 use this guide
What can't be done natively on Exchange Server
Inability to insert the email signature directly under the latest email reply/forward. New signatures are placed at the very bottom of an email chain. When you reply to a message, your signature is not inserted in the context of your reply. Instead it is dumped under the first email in the whole conversation, causing your recipient to not be able to see it.
No support for embedded (in-line) images - your company's logo will only become visible, if the recipient clicks 'download pictures'.
Signatures not visible in users' Sent Items folders. The end user does not see his or her email signature in the Sent Items folder of his or her email client.
These limitations can be only overcome using 3rd party software such as CodeTwo Exchange Rules.
Exchange Server options compared with CodeTwo Exchange Rules
Email signatures placed directly under the latest reply/forward
Exchange Server cannot detect separate emails in conversations, so it will keep inserting email signatures at the very bottom of a conversation every time your users send a new reply or forward. CodeTwo Exchange Rules uses a unique algorithm to recognize when a new email is added to a conversation and places the signature directly beneath it.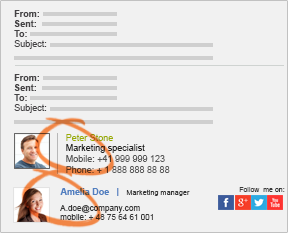 Email signatures are placed at the very end of an email conversation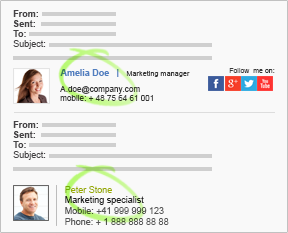 Email signatures are inserted directly under the latest email.
---
Auto-removal of redundant lines in signatures
Lines containing Active Directory variables that couldn't be updated for a given user, if left in his or her email signature, may lead to embarrassing results.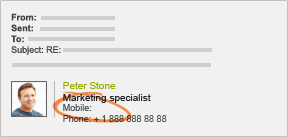 The mobile phone number is missing in a user's email signature.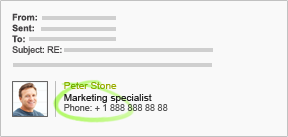 The mobile phone line has been automatically removed from the email signature.
---
Signatures visible in users' Sent Items folders

Users don't see their email signatures and have no way of verifying that emails are stamped correctly, leading to confusion and litigation issues.

Signatures are added to emails in users' Sent Items folders. This way employees can see what their recipients see and stamped emails can be archived for litigation purposes.
---
In-line (embedded) images, logos and photos in email signatures
Exchange Server 2010, 2013, 2016 and 2019 let you insert only web hosted images into the native email signatures. This is not a good solution for businesses, because web hosted images are by default blocked by email clients and are subject to network issues on the recipient's or host's side.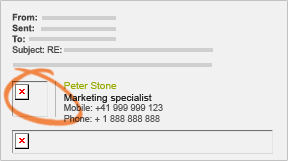 Images are blocked by recipients' email clients or not displayed due to network issues.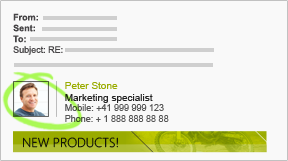 All images are displayed correctly.
---
Ability to delegate email signature management to non-IT staff

Managing email signatures requires system administrator's assistance (waste of time and resources) or direct administrative access to the server (security and privacy risk).

Remote management module with custom access rights allows e.g. your Marketing team to manage all aspects of email signatures, without breaching security or wasting resources.
---
Built-in WYSIWYG email signature editor
The native Exchange Server solution accepts only raw code, so to use it you must be an HTML expert, have knowledge of Active Directory attribute names, and a set aside lot of time for testing...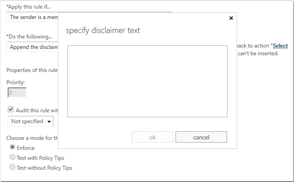 Email signature HTML code box in Exchange 2013/2016/2019.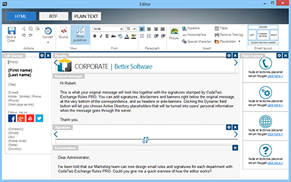 CodeTwo Exchange Rules WYSIWYG HTML eidtor.
---
Support for all web, mobile and standalone email clients (e.g. Outlook, OWA, iPhone/iPad, Android, etc.)


---
Signature rule configuration wizard


---
Personalization thanks to dynamically updated user details

/

*
(*Exchange 2007)

---
Ability to edit the HTML source code of email signatures

/

*
(*Exchange 2007)

---
How CodeTwo Exchange Rules works:
A user sends an email from their device or computer.
CodeTwo Exchange Rules stamps the email with a personalized signature.
The recipient sees the personalized email signature underneath the email body.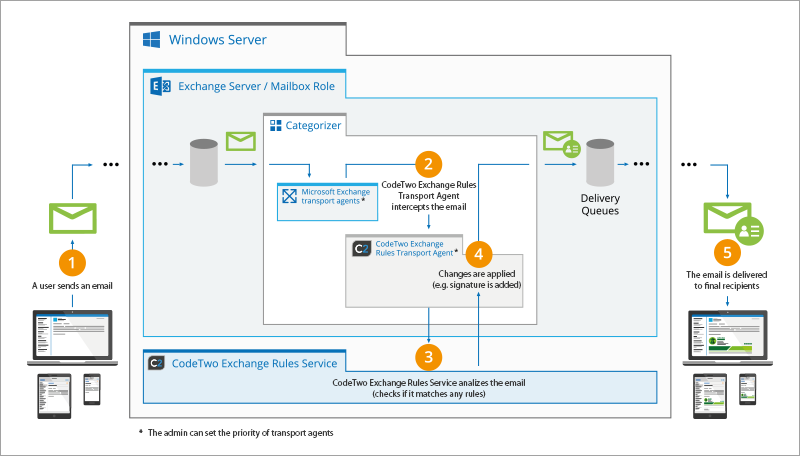 Interested in centralizing email signatures on Exchange Server?