Client-sided email signature management in G Suite, Outlook and hosted email
Capabilities of hosted email platforms
G Suite (Google Apps), as one of hosted email platforms, lets you deploy a solid disclaimer with quite rich formatting (including images and links). On the other hand, it has some flaws: it does not allow limiting the scope of senders and it does not support variables, so it eliminates the possibility of creating personalized email signatures for many users at once.
To set up a company-wide email footer in G Suite, first design the footer (check out our Email Signature Generator for this purpose) and then implement it (for an illustrated guide see this article)
The limitations mentioned in the first paragraph can only be removed by using third party software such as CodeTwo Email Signatures for Email Clients. Take a brief look at the below overview to learn more about the product's functionalities and options offered in G Suite and other hosted email platforms.
Note: If you use hosted Exchange services, let your server provider know about CodeTwo Exchange Rules PRO - the program for Exchange signatures, mail flow and content management. Thanks to its API, the server provider can delegate, e.g. email signature management to customers via web, mobile or desktop apps.
Hosted email platform options compared with CodeTwo Email Signatures for Email Clients
Functionality

G Suite / Hosted email platforms

CodeTwo Email Signatures
for Email Clients

Email signatures placed directly under the latest reply/forward

Hosted email solutions cannot detect separate emails in conversations, so they keep inserting email signatures at the very bottom of a conversation every time a user sends a new reply or forward message. CodeTwo Email Signatures for Email Clients always adds the signature beneath the latest email, at the moment the sender is writing it.

Email signatures are placed at the very bottom of an email conversation.

Email signatures are inserted directly under the latest response when exchanging emails.

Overriding users' existing email signatures

The solutions available in G Suite and other cloud platforms add signatures to emails regardless of whether the emails already contain footers or not. CodeTwo Email Signatures for Email Clients fixes this by overwriting footers added by users.

The email signature configured in the cloud platform has been added under the user's previous footer.

Only the footer configured in CodeTwo Email Signatures for Email Clients has been added to the email.

Variables updated with users' details

/

Platforms like G Suite do not offer any automatic personalization tools and let you only deploy fixed footers with static text, links, and images.

Two personalization options: users' details can be extracted from your platform's native directory or your in-house Active Directory database (if you have one).

Auto-removal of redundant lines in signatures

Lines containing Active Directory variables that couldn't be updated for a given user, if left in his or her email signature, may lead to embarrassing situations.

The mobile phone number is missing in a user's email signature leaving blank space.

The mobile phone line has been automatically removed from the email signature.

Ability to delegate email signature management to non-IT staff

Managing email signatures requires system administrator's assistance (waste of resources) or direct administrative access to the server (security and privacy hazard).

CodeTwo Email Signatures for Email Clients allow giving a user restricted access to his or her company's email signatures without accessing any server's settings.

Users can see the signature while writing a message
Built-in WYSIWYG signature editor with HTML source access
Library of pre-defined signature/disclaimer templates
How does CodeTwo Email Signatures for Email Clients work?
| | |
| --- | --- |
| | The administrator of CodeTwo Email Signatures for Email Clients designs and deploys an email signature template containing user's variables. |
| | CodeTwo Email Signatures updates the email signatures with users' personal data and distributes the personalized signatures to users' webmail accounts (e.g. OWA or Gmail) and Outlook clients. |
| | When a user starts writing an email, he or she already sees the signature and this way knows how it will present on the recipient's side. |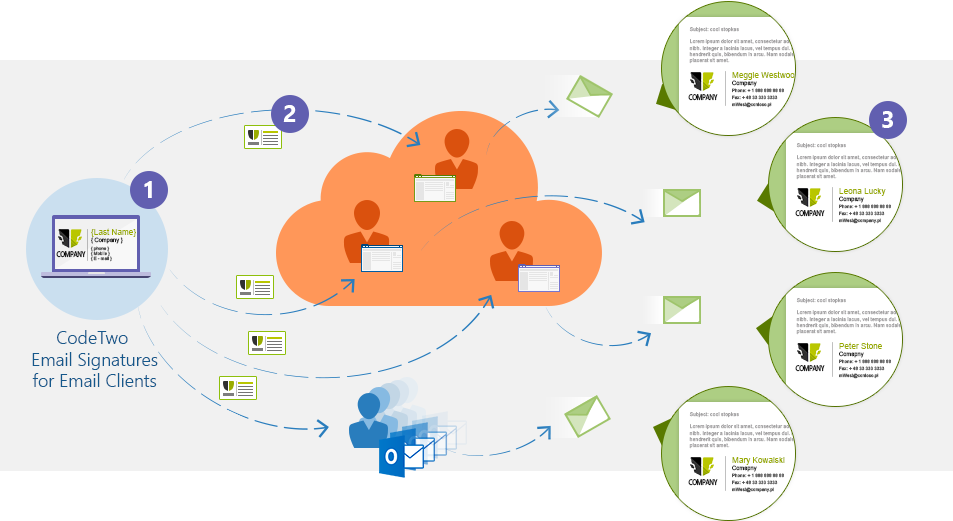 Are you interested in centralizing email signature management for G Suite (Google Apps) or Outlook?