Manage organization-wide email signatures
Managing email signatures and disclaimers for the whole organization can be a difficult and time-consuming task. Save yourself all the trouble and unify email signatures in your company using a dedicated app. This is what your signatures can look like if you use world-leading email signature management solutions from CodeTwo: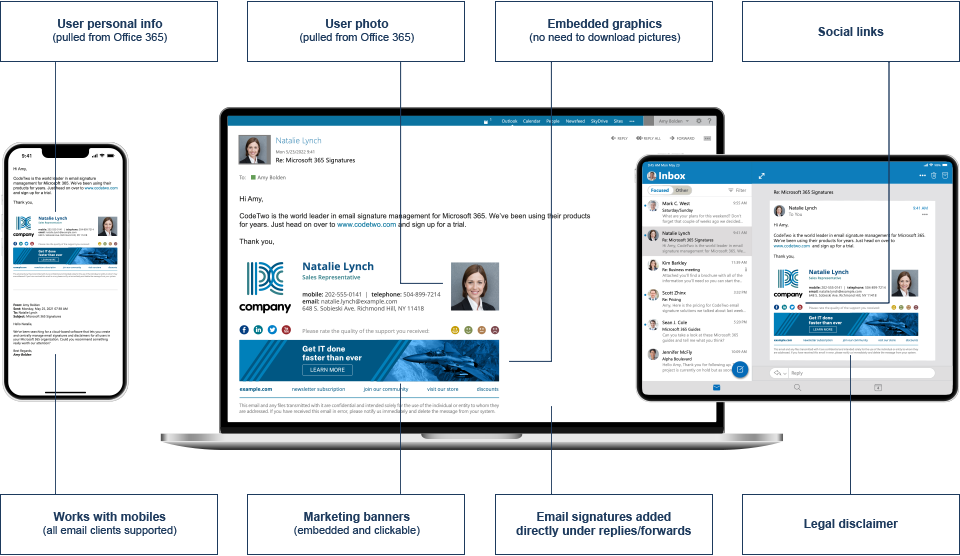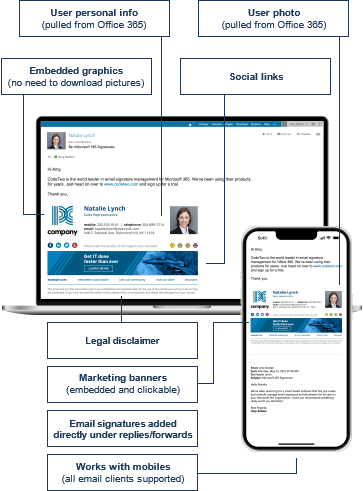 Choose your email platform to get a free trial of CodeTwo email signature services or keep reading to learn more about the benefits.
Benefits for the entire company
With CodeTwo email signature software for Microsoft 365 and Exchange, you can:
Manage signatures and legal disclaimers centrally for the entire company or delegate signature management tasks to specific people or departments.
Embed banners, user photos and social media icons into email signatures instead of linking them, so that your graphics are immediately visible, and users don't have to click "Download images" to see them.
Insert signatures directly under the latest reply or forward message in an email conversation.
Add signatures directly in Outlook and OWA or allow the software to add them automatically in the cloud after a message is sent (this works with all email clients and devices, including mobiles and Macs).
Design professionally looking email signatures with a powerful and easy to use HTML signature template editor or customize built-in templates created by experts.
Automatically add sender's contact information pulled from Active Directory.
Create rules to control when signatures should be added to emails….
… and more.
Watch CodeTwo solutions in action
See how easy it is to create and manage company-wide email signatures in Microsoft 365 and Exchange when you use these top solutions:
Click an email platform below to get the best email signature app and test it for free.