Outlook beginners and savvy users alike appreciate tons of features Microsoft Outlook provides. Even though the program is so great and powerful that many of us simply live in it during workdays, the task feature seems to need more hammering out. As a result, many of us don't use Outlook tasks at all and resort to other task or project tools.
To let you stay on top of everything and tackle your tasks without leaving Outlook, we created a free Outlook addin called CodeTwo Task Workflow. Thanks to a nifty task pane, automatic message notifications, and a full support for Exchange or CodeTwo Public Folders synchronization, you can finally plan ahead for the entire company and work on your projects with others in real time – and the whole process stays on track, in Outlook.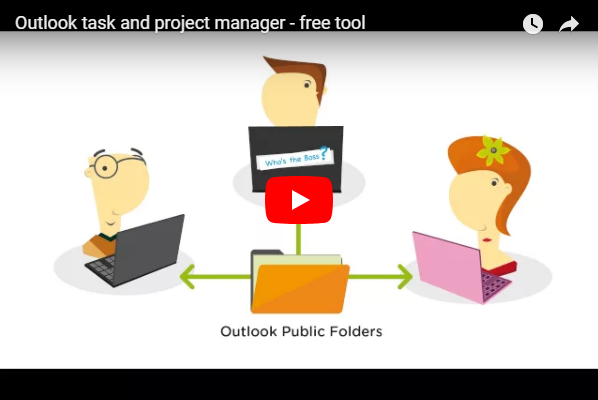 Key features
Free and easy-to-use project and task manager for Outlook 2016 / 2013 / 2010 / 2007

Assign, monitor and track your own (or your team's) tasks in Outlook

Synchronize Outlook tasks with others in real time (via Exchange server or CodeTwo Public Folders)

Create and manage projects

Perfect for various project management – from simple to-dos to complex task groups to agile estimating and planning (SCRUM, DSDM, XP)

Automatic email notifications

Generate task statistics, use shared setting and much more

Seamless Outlook integration, start using it right of the bat after the installation
How it works
CodeTwo Task Workflow automatically integrates with your Outlook and adds its own task pane to your task windows, and a bunch of additional buttons on their ribbon. The task pane will let you easily and quickly assign people to given tasks, select and edit substatuses, enter estimated time and effort, and manage notifications. The buttons we added to the tasks' ribbon are for adding time stamps to the task content, work-time, and for toggling task pane on or off.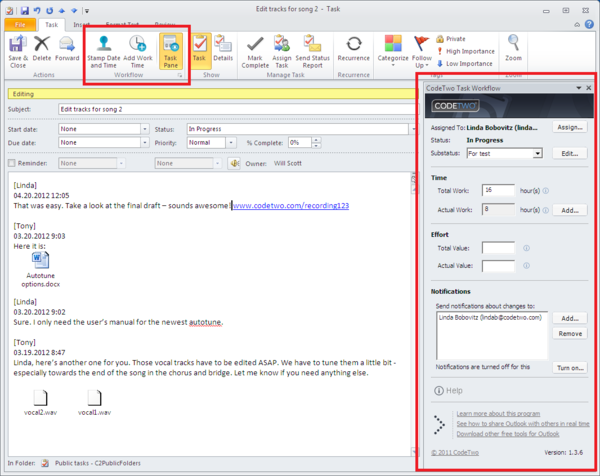 Any changes to your tasks can generate automatic email notifications that are sent to all people involved in a given task so you are sure everyone gets a heads-up and no task will ever slip through unnoticed.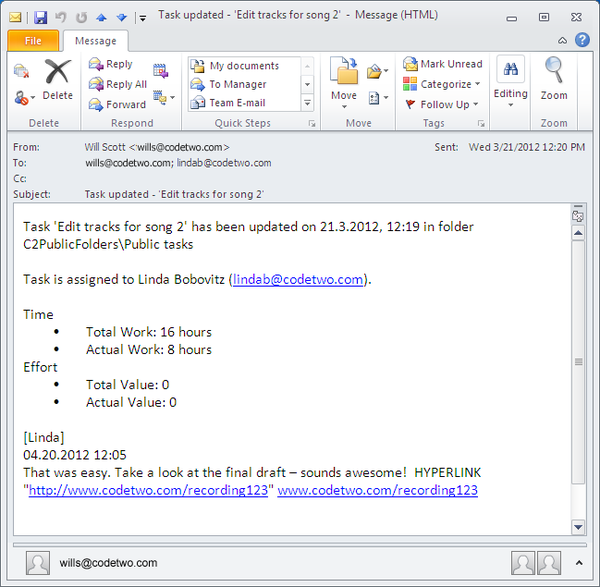 The program's options are also available in Outlook ribbon and stay at hand whenever you need them while working with your tasks.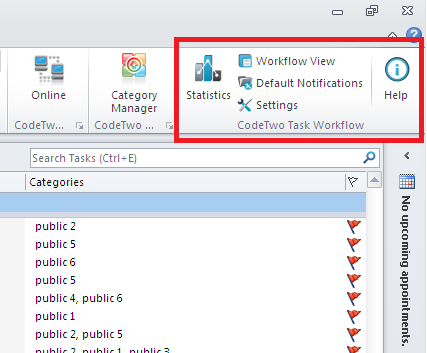 The Workflow View button changes Outlook view in task folders giving you instant access to all necessary data like assigned people, task progress, task statuses, substatuses, and the time spent on a given task.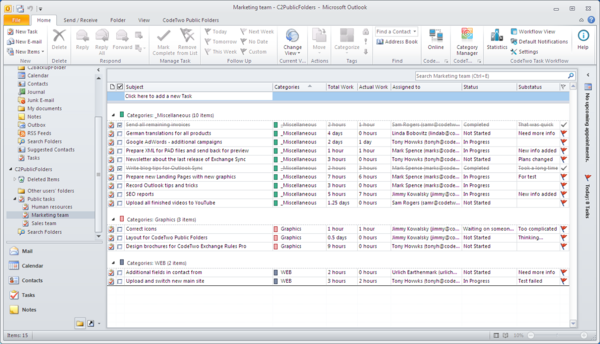 The Default Notifications option lets you toggle on/off email notifications for task actions in a given folder, and select people who are notified if any changes are made to any of the tasks.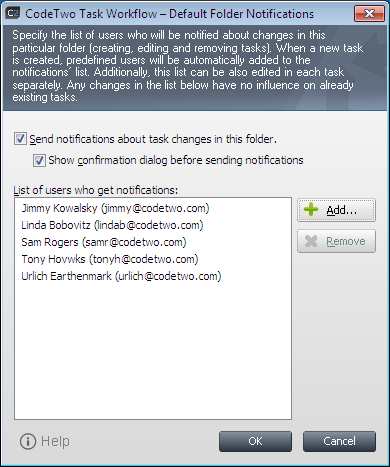 Off to the left, the Statistics button allows you to quickly create stats for your projects to see how much work has been done so far and how long it will take until the end of the project. You will also know how many tasks have been completed and who of your teammates is dragging behind and needs additional info or help from the manager. The statistics can be generated as an Excel spreadsheet or an HTML report displayed in your web browser.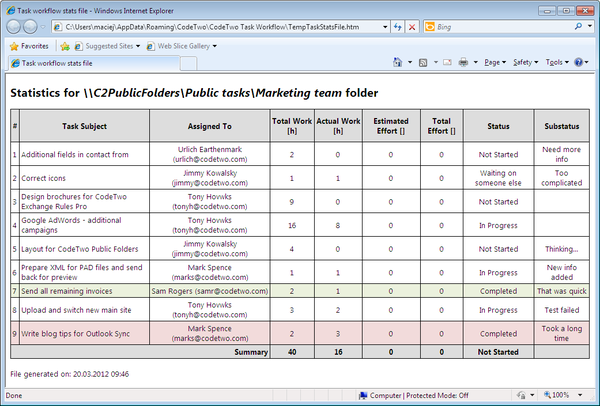 How to use it
Take a look at the workflow examples below and pick the one that best suits your work model. You can get the ball rolling right away with CodeTwo Task Workflow if you simply stick to one of the scenarios below.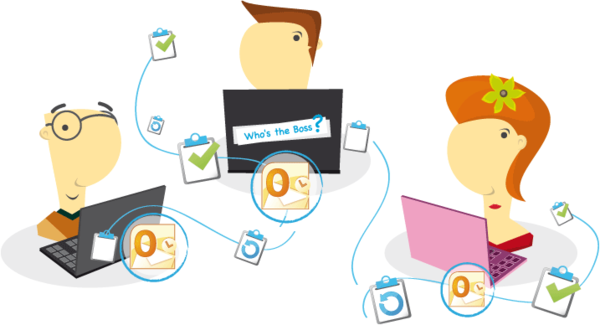 Installation and configuration
The installation process is very straightforward. Just download CodeTwo Task Workflow and launch it on each of the computers equipped with Microsoft Outlook. Follow the wizard (Next, Next, Finish) and start Outlook. There you go! CodeTwo Task Workflow is already in your Outlook's ribbon and you can start working on your Outlook tasks with your team immediately.
Note! If you want to share tasks with other Outlook users and manage them with CodeTwo Task Workflow, make sure you are all connected to Microsoft Exchange server or that you use CodeTwo Public Folders (Exchange server cost-effective alternative). Learn more about CodeTwo Public Folders...