CodeTwo PST Ghostbuster is a free tool for removing duplicated PST files (ghost files) from Outlook.
Please note! This program doesn't work with Outlook newer than Outlook 2010.
In some cases the PST file can appear twice in Outlook. Its contents are then shown twice on the folder list and in other folder views, which can make work much harder.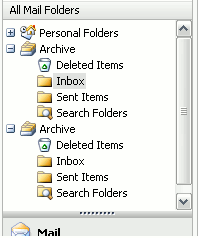 When trying to delete the duplicated PST file from the profile, a message: "There was an error. Object was not found" appears (you can also get errors "The operation failed. An object could not be found." or "Can't open this item. The object could not be found.") and the only way to remove it is to create a new Outlook profile. In many cases this is unacceptable due to the settings, that may be lost: email accounts, signatures, user-defined views and forms.

If the Close button from the PST file context menu is disabled, PST Ghostbuster will not be able to remove the PST file from the profile. In that case, please read this solution.
Thanks to CodeTwo PST Ghostbuster, the duplicated PST file can be easily fixed and removed from the profile. Upon launching the program, choose the profile in the Select Outlook profile field, where the issue appears and in the Enter the name of ghost PST file field type the name of the file as is it displayed in Outlook. Next click the Check button. If the program displays the "Invalid sections that should be removed were found..." message, it means that the duplicated PST file was found in the profile and can be fixed. To do so, click the Repair! button.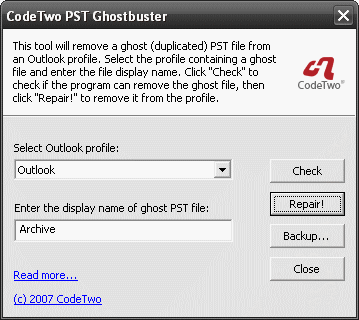 Every time when you delete the duplicated PST file from a profile, the program modifies the system registry. Before that, it makes a copy of the appropriate system registry branch in a special folder. Thanks to that the changes can be easily reversed. To open the folder containing the system registry copies click the Backup button. To restore the registry to the previous state, run the appropriate REG file in that folder.