CodeTwo Outlook Reply All Reminder
Don't forget about other recipients ever again

Date Published: 16 Jan 2019
Latest Version: 1.1.3.12
Size: 11.1 MB
---
Supported platforms
Windows 10(1) / 8.1 / 8 / 7 / Vista / 2003 / XP SP3
Microsoft Outlook 2016 / 2013 / 2010 / 2007
Support for 32-bit and 64-bit versions
(1) If the program doesn't work after upgrading to Windows 10 from Windows 7 or 8.1, you need to reinstall it.
---
---
Thank you for downloading CodeTwo Outlook Reply All Reminder.
The Outlook Add-in you are about to download (CodeTwo Outlook Reply All Reminder) will notify you about other recipients of the original message when you click the Reply button.
Your download will begin in a moment. If it doesn't, click here to try again.
Installation Guide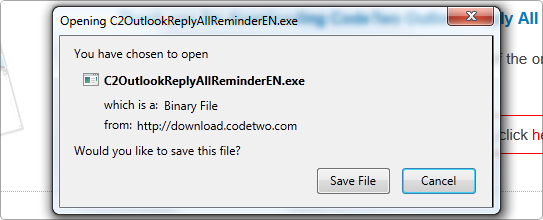 Download the installer and save it on your computer.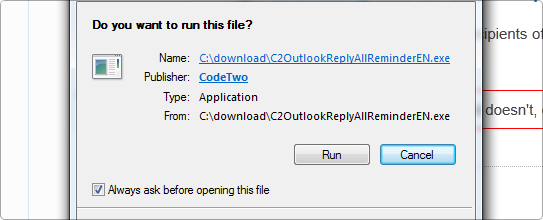 Run the installer and follow the wizard.
CodeTwo Reply All Reminder will be added to your Outlook and will be ready to use straight-away.