CodeTwo Active Directory Photos
Add photos to Active Directory and manage them in an easy way

Date Published: 26 Jan 2021
Latest Version: 1.4.0.0
Size: 18.5 MB
---
Supported platforms
Windows Server 2016(1) / 2012 R2 / 2012 / 2008 R2 / 2008 / 2003 R2 / 2003
Windows 10(2) / 8.1 / 8 / 7 / Vista / XP SP3
Small Business Server 2008
Support for 32-bit and 64-bit versions
(1) If you can't find the program after the installation, consult this KB article.
(2) If the program doesn't work after upgrading to Windows 10 from Windows 7 or 8.1, you need to reinstall it.
---
---
Thank you for downloading CodeTwo Active Directory Photos.
The software you are about to download (CodeTwo Active Directory Photos) lets you easily upload users' photos to Active Directory and manage them. Owing to this, it will be possible to view them in Microsoft Outlook internal contact lists and attach them to signatures added to outbound mail.
Your download will begin in a moment. If it doesn't, click here to try again.
Installation Guide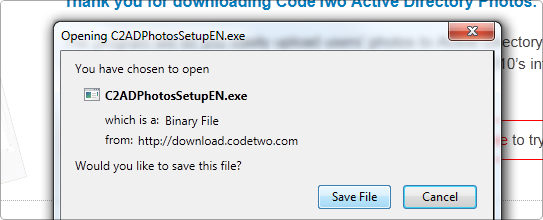 Download the installer and save to your hard drive.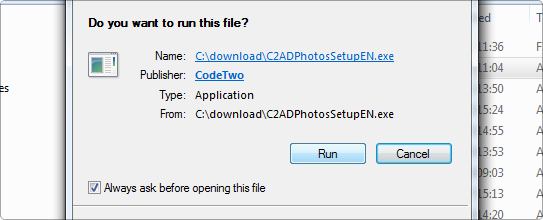 Run the installer on the machine from which you log in to your server administrator account.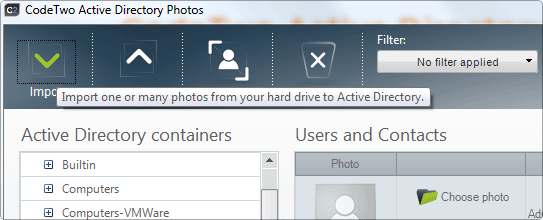 You will be able to upload users' pictures immediately after the installation process has been finished.
See also
Test the evaluation copy of CodeTwo Exchange Rules Pro and combine its email management features with the abilities of CodeTwo Active Directory photos. By using both of these applications, you will be able to add Active Directory photos to messages sent to recipients from outside your organization. Learn more...