Email Disclaimers, Signatures, Branding for Exchange 2000/2003, Outlook and mobiles
Images, Company Logos, Employee Photos in Email Signatures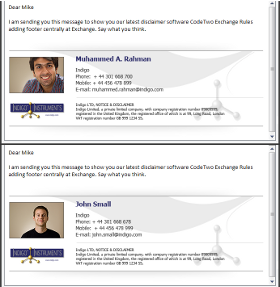 CodeTwo Exchange Rules 2003 will let you add images to your signatures to make your mail look and feel professional. You can add a company logo, create a graphic business card for each sender, or insert ad banners to aid your marketing campaigns.
What is more, each signature added to email may contain a different image! The program is capable of selecting the image based on who is sending the message. This means you can customize the company signature even further than by using text Active Directory fields. Both the image and the signature text can be filled dynamically for each sender based on just one pattern (footer template) defined by the administrator at Exchange Server.
Here's an example of how you can benefit from it: imagine you want each user in your organization to have his or her photo added to the signature. It is possible with CodeTwo Exchange Rules 2003 and in a couple of minutes ready to launch! All you do is compose one central template and gather all photos in one folder accessed by the program.
Consider this! By letting your employees add their personal photo to each signature in email messages you not only make them less anonymous but at the same time bring closer the parties involved in the exchange. Doing so may actually contribute to people interacting more easily, establishing a tighter business relation that will help them secure a deal.

In another scenario you can add images of handwritten user signatures dynamically to their footers. If you want the images to be different for each user, all you need to do is collect relevant pictures in one folder that will be accessed by CodeTwo Exchange Rules 2003 each time an image is added to the signature. Naturally, there is no limit as to the number of images per template - you can have a dynamic employee photo along with a scanned signature added to the same message.
Read more about the use of images in footers: