Email Disclaimers, Signatures, Branding for Exchange 2000/2003, Outlook and mobiles
Run Email Marketing Campaigns in Your Company Exchange Email
Apart from managing your company signatures and disclaimers, CodeTwo Exchange Rules 2003 can be a powerful tool to aid your marketing campaigns. By using CodeTwo Exchange Rules 2003 you can have your corporate mail appended with marketing information that advertises your products, latest collections, discount bargains, encourage to sign up for news feeds etc.
One of the basic capabilities of CodeTwo Exchange Rules 2003 is adding images to footers. You can use the same mechanism to append ad banners to your footers. The marketing feed can form an integral part of the footer together with the signature data.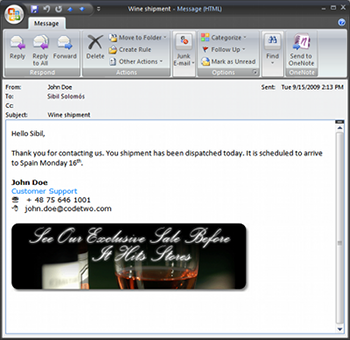 Launch email marketing campaigns incorporating ad banners. Your banners can include anything like:
news on the latest products
newsletter signup options
special offers
marketing buzz
coupon codes
a visual description of your business profile and range of services
and many more...
Click here to read more about marketing ideas with CodeTwo Exchange Rules 2003 in your company email.
Read more about ad banners: