Email Disclaimers, Signatures, Branding for Exchange 2000/2003, Outlook and mobiles
Easy-to-use Exchange Signature Editor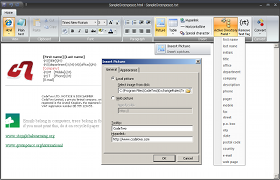 CodeTwo Exchange Rules 2003 has a brand new HTML editor enabling quick, convenient and intuitive composition of professional-looking signatures and disclaimers. The editor has a modern look and includes all functionalities that are required while composing HTML and plain text footers. It is also very user-friendly.
The editor lets you use all HTML elements that can be used in an email message, such as tables, images, various font types and colors. The editor contains the button to quickly insert Active Directory variables to the footer templates, which can be used in personalized signatures.
The editor can also be used to create and edit plain text footers.