Email Disclaimers, Signatures, Branding for Exchange 2000/2003, Outlook and mobiles
Central Management of Exchange Disclaimers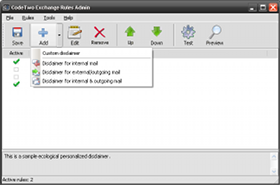 CodeTwo Exchange Rules 2003 lets the administrator manage disclaimers and signatures added to messages sent by all users from the Exchange organization. CodeTwo Exchange Rules 2003 is a server based solution - there is no need to configure the footers on all individual machines in the network. The footer is composed and deployed for all users by the administrator at Exchange.
The disclaimers and signatures are configured by the administrator using a convenient and easy-to-use rule wizard that enables setting up personalized signatures, legal notes, and company disclaimers. The editor enables using numerous criteria which help configuring different footers for different users. The footers can be defined based on the domain or Active Directory container the sender or recipient belongs to, or on the basis of certain Active Directory attributes, such as branch name, or country of residence.
CodeTwo Exchange Rules 2003 streamlines the addition of footers to messages - now the administrator is not required to configure footers separately for all users and supervise their correct usage. Of course, the users can still use the client-based footers.
Learn more about creating footers and rules:
If you need to manage email signatures but in Office 365, check out CodeTwo Email Signatures for Office 365.