Email Disclaimers, Signatures, Branding for Exchange 2000/2003, Outlook and mobiles
Different footers and signatures for different senders and recipients
You can have different footers and signatures depending on the people involved in the correspondence. An easy-to-use wizard will guide you through rule creation and add advanced scopes of senders whose messages will contain a given signature. The senders can be defined by providing their SMTP addresses, membership to Active Directory containers or groups, and/or based on specific values of their Active Directory attributes.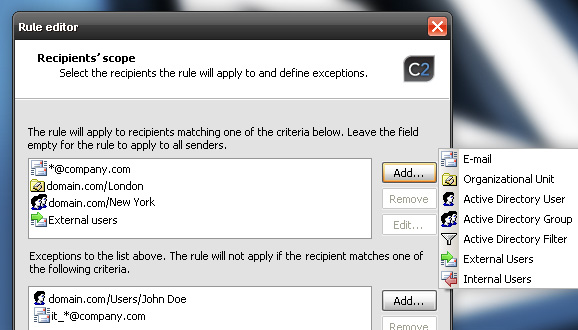 ---
Tools for previewing footers and testing rules
With the footer previewing and rule testing tools you will not get confused as to which rules apply to certain senders/recipients and which footers will be added to their messages, even in a large Exchange organization. These features will let you see as early as the stage of creating footers what the final messages will look like with the signatures in place.
As shown in the Figure, CodeTwo Exchange Rules 2003 will ask you to decide where you want to insert a particular footer in a message, i.e. at the very end of the message or directly below the response text.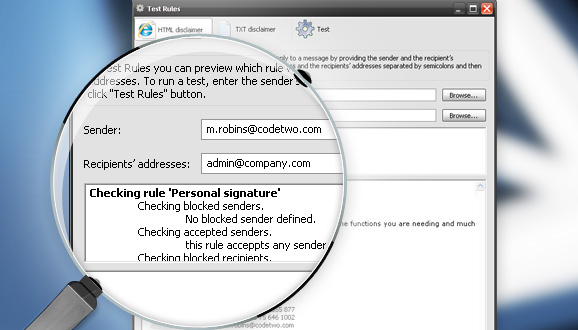 ---
User-friendly signature editor
Use the built-in signature editor to create footer templates both in HTML and plain text format. Create professional-looking HTML footers with no practical knowledge of HTML language.
You can add Active Directory placeholders to footer templates, which are dynamically replaced with corresponding user data while the message is sent, e.g. full name, phone no., company name, etc. Placeholders let you create personalized signatures for all employees while making sure all signatures are unified in terms of style and format.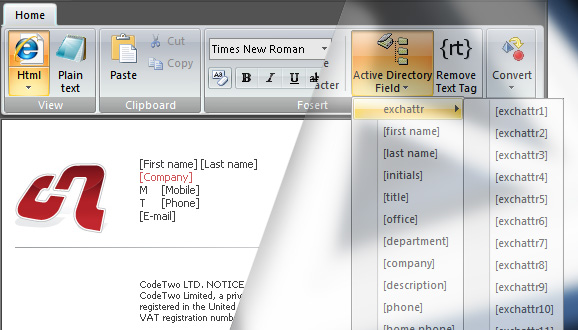 ---
Managing signatures and stationery in company mail
Using CodeTwo Exchange Rules 2003 will help keep your company mail look unified and professional, while making sure it contains all required vital information about the sender of the message and the company it originates from.
Below you will find several examples of messages with signatures created and automatically added by CodeTwo Exchange Rules 2003.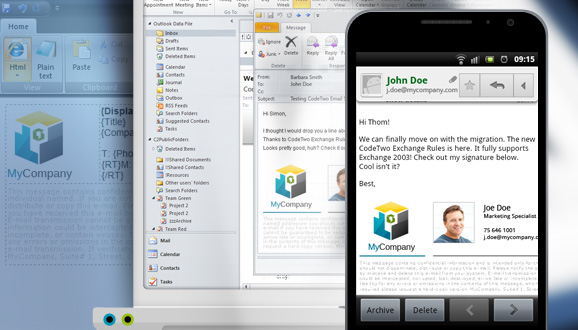 ---
Email Marketing
Use CodeTwo Exchange Rules 2003 to add marketing information to each corporate mail that leaves your organization. Don't waste this chance to reach even more customers with well designed emails. You can add one or multiple banners to your messages and embed links within. Banners can contain product information, discount offers, newsletter subscription, or marketing buzz.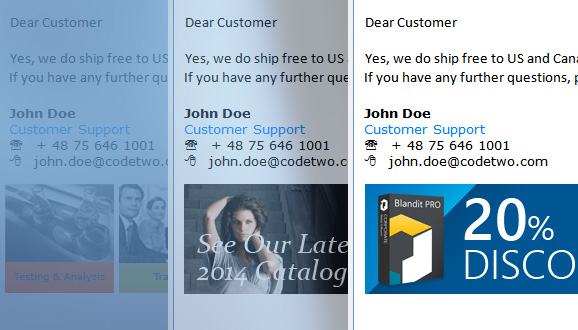 ---
Where to begin?
Below you will find useful references that will provide answers to most of your questions. Should you have any further questions, do not hesitate to contact us.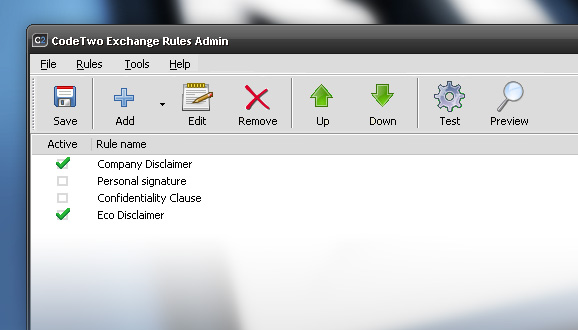 ---