Email Disclaimers, Signatures, Branding for Exchange 2000/2003, Outlook and mobiles
Advanced Processing Options
CodeTwo Exchange Rules 2003 contains advanced options for footer processing and insertion, which makes it a program suitable for all organizations that can be used in multiple scenarios. These characteristics let CodeTwo Exchange Rules 2003 solve some of the most common issues related to footer management in mail messages:
Where is the footer supposed to be placed in a message?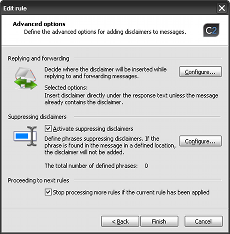 When you hold an email correspondence, each of the messages you send may contain the history of exchanges. The most common requirement is for the signature to be placed automatically directly below the most recent response instead of the end of the correspondence. CodeTwo Exchange Rules 2003 is a perfect answer to such a requirement - it enables choosing where the signature is supposed to be inserted in the message during rule creation. More »
Is the footer required if it is already found in the message?
Let's assume you are having an email correspondence in which each of the messages you send contains the history of exchanges, and in CodeTwo Exchange Rules 2003 there is a rule defined that adds to messages a company disclaimer, including general information on the company or a legal note. In this scenario the requirement will be not to use the same disclaimer more than once in a series of messages. Again, CodeTwo Exchange Rules 2003 has the capability to stop the disclaimer from being added if it is already found in the message. More »
Support for all international encodings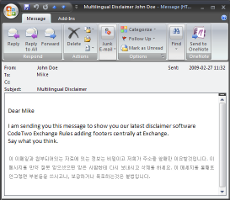 CodeTwo Exchange Rules 2003 has been developed with an international user in mind. The priority is then for the application to be able handle email messages and signatures/disclaimers in all encodings. What is more, it even lets you create a footer that contains characters and letters from multiple languages (encodings). This means you can have a footer that will include a text in English, Spanish, Russian, Greek and Japanese. More »
Suppressing footers for selected messages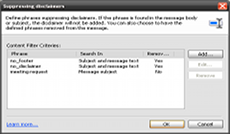 CodeTwo Exchange Rules 2003 lets the administrator choose text phrases that will stop the footer from being added if a given phrase is found in the message subject or body. This is the only way in which individual users may control the use of signatures/disclaimers. More »
Smart data retrieval from Active Directory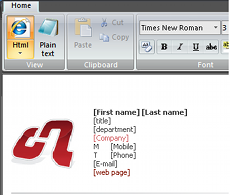 The program is capable of recognizing a situation in which the variable in the signature is linked to an empty Active Directory field for a given user. For example, the sender does not have an entry for the telephone number and the signature template contains the phrase "Tel. [phone]". Normally, this would mean an empty line is seen in the signature. CodeTwo Exchange Rules 2003 solves this problem by removing the line altogether including the signaling word 'Tel.' or any other word that precedes the empty variable. More »
Inserting multiple footers to one message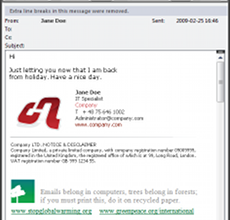 CodeTwo Exchange Rules 2003 enables adding more than one footer to a message if this is necessary. Owing to the technology employed, the rules can be ordered in the way that will ensure the addition of a detailed signature/disclaimer containing apart from personal also company information plus the legal note when a new message is sent for the first time, and a simplified signature in later correspondence in the same series. More »
Read more about advanced processing options: