Email Disclaimers, Signatures, Branding for Exchange 2000/2003, Outlook and mobiles
5 Minute Installation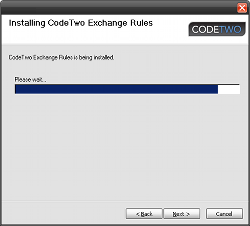 We aim to make our software as intuitive and user-friendly as possible so that the user would not need to waste time learning new software. The installer is developed in line with these principles - it does not ask the administrator for more than just accept the licensing agreement and point where to install on the local drive.
Upon installation, it can be run and the functionalities may be tested without rebooting the Exchange Server. By default CodeTwo Exchange Rules 2003 adds several ready-made rules including disclaimers during installation. Just tick the activate checkbox to start adding the footers to your mail. By default the rules work for all mail. Naturally, this can be changed by modifying the settings.
If the Exchange organization has more than one Exchange Server 2000/2003, CodeTwo Exchange Rules 2003 should be installed on each machine with back-end role.