CodeTwo Exchange Rules Pro
Centrally managed email signatures, disclaimers,
marketing banners and email flow control
Used by thousands of companies around the world
Windows Server certified
MSExchange.org Gold Award
Download
no credit card required; free support while you test
Videos
Below you will find videos concerning CodeTwo Exchange Rules Pro - a user-friendly email flow, content and signature management solution for Microsoft Exchange Server. If you have any questions about the product, feel free to send them to our Technical Support.
How to use the program's HTML editor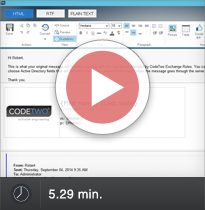 Learn how use the CodeTwo Exchange Rules Pro Editor to design professional email signature templates. The video demonstrates how to create tables, insert images and add Active Directory variables, which will be substituted by users' data in production.
How to set up an email signature rule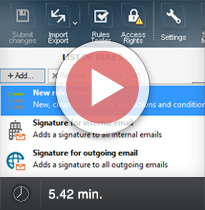 This video takes you through all the steps of creating a rule that adds email signatures with social media icons to Exchange mail. Find out how to define conditions and exceptions, add actions, import templates from the email signature library, and use advanced settings such as the rule scheduler.