CodeTwo Exchange Rules Pro
Centrally managed email signatures, disclaimers,
marketing banners and email flow control
Used by thousands of companies around the world
Windows Server certified
MSExchange.org Gold Award
Download
no credit card required; free support while you test
Legal email compliance in Exchange Server 2007, 2010, 2013 and 2016
Keeping your IT infrastructure, especially email servers, compliant with legal regulations can be extremely challenging. Exchange Server 2013 and 2016 cover some aspects of email compliance in their standard functionalities, but they are not supported across all legacy versions of Exchange and some things aren't even available at all. Implementing DLP, data inspection, email control, reporting and attachment management on Exchange 2007, 2010, 2013 or 2016 can cause the administrator a lot of headaches unless he or she has CodeTwo Exchange Rules Pro onboard.
The program gives the administrator a set of 16 useful email actions that combined with an enormous set of conditions, exceptions and rule options and over 30 DLP dictionaries result in countless implementation scenarios, including email compliance cases.
CodeTwo Exchange Rules Pro lets you: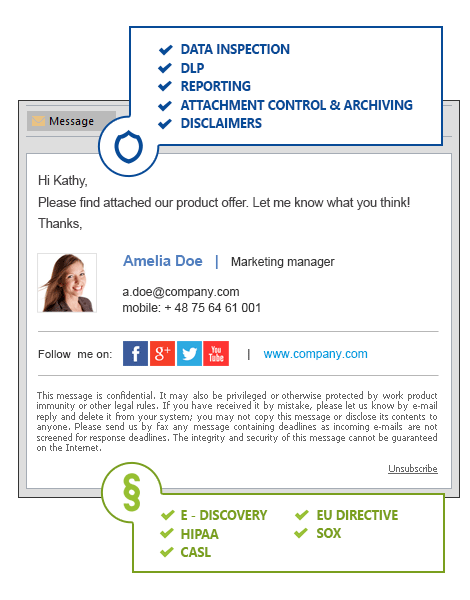 Some related legal acts
Applying automatic email rules with CodeTwo Exchange Rules Pro will help you stay in keeping with some aspects of the below-mentioned acts. Please bear in mind that these are just suggestions on how CodeTwo Exchange Rules Pro can help you comply with these regulations. If you want to be sure all legal requirements concerning those acts are fulfilled in your country, ask your lawyer for a professional legal advice.