CodeTwo Exchange Rules Pro
Centrally managed email signatures, disclaimers, marketing banners and email flow control
Support for all email clients (including Outlook and mobiles)
Used by thousands of companies around the world
Windows Server certified
Download
30-day free trial with support;
no credit card required
Powerful and intuitive HTML signature template editor
The template editor featured in CodeTwo Exchange Rules Pro will significantly simplify the creation of your company's email signatures. The editor focuses on ease of signature deployment, which is why it comes with dozens of predefined templates that you can use and customize to your needs. Each template has been prepared by our HTML experts and is optimized for both desktop and mobile email clients.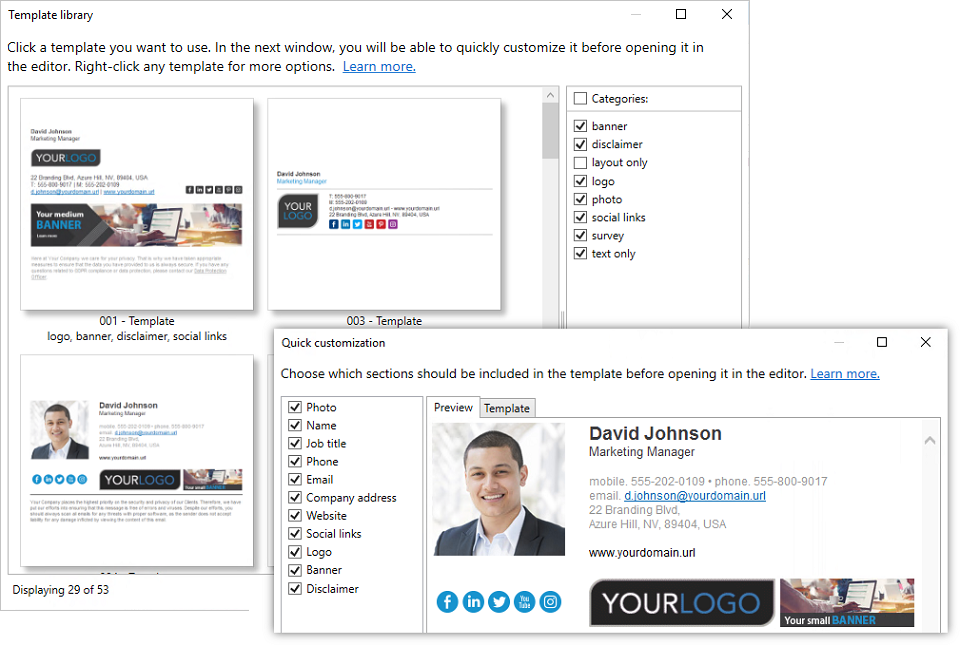 If you prefer to create you signature from scratch, the editor has all the basic options (text and image formatting, links and tables insertion, etc.) necessary to compose pretty much any type of email signature – from a minimalistic yet elegant signature that contains only the necessary contact details and a disclaimer, to a visually complex block that includes logos, tables, links, social media buttons and more. The template editor features WYSIWYG (what you see is what you get) interface, which means you don't need to have any HTML knowledge to create professionally looking signatures. On the other hand, if you prefer working directly with HTML, the editor also offers the source code view.
Key features of the signature template editor:
See this article for step-by-step instructions on how to create a signature template in the editor.