Centrally managed email signatures, disclaimers, marketing banners
and full mail flow control on Exchange 2016, 2013, 2010 and 2007.
Email address rewriting for Exchange Server
It is not unusual that a company has a general email address for all external users to reach, e.g. info@example.com. This applies to departments too. Addresses such as sales@example.com, support@example.com etc. are there to allow clients to reach certain departments of the enterprise without the need to have a ton of personal email addresses.
But what if a marketing team user answers an email that was sent to sales@example.com? This poses a problem of keeping the look of the message unified and more importantly the sender address change can cause all replies to go to a completely different mailbox.
CodeTwo Exchange Rules Pro gives you a remedy to that issue - the Rewrite sender's address action. It allows to change the email address of the sender depending on the rule's conditions. You can also specify email address to be rewritten and changed to any other one e.g. to support@example.com. This way you can keep your correspondence organized and consistent without the risk of losing any emails, as all client's replies are sent to the general address
Key features: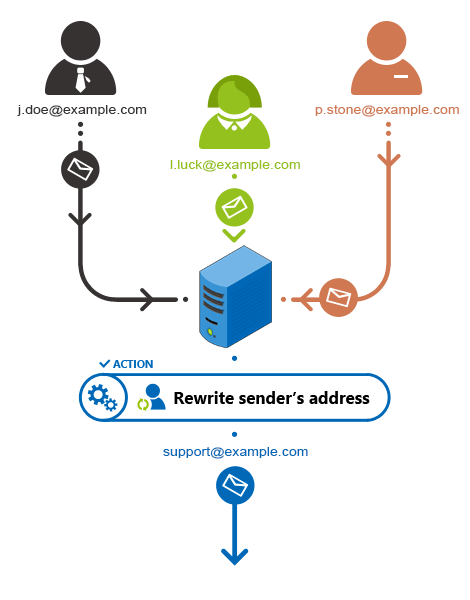 ---
Screenshots