CodeTwo Exchange Rules Pro
Centrally managed email signatures, disclaimers, marketing banners and email flow control
Support for all email clients (including Outlook and mobiles)
Used by thousands of companies around the world
Windows Server certified
Download
30-day free trial with support;
no credit card required
Customer Case Study
Wealth Enhancement Group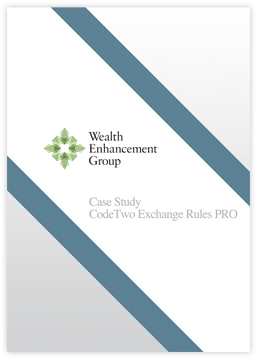 Company description
Wealth Enhancement Group is a Minneapolis, Minnesota-based financial planning and advisory services firm with locations throughout the upper Midwest. The company is a receiver of many awards and accolades, which recognize their excellence in wealth management.
Problem
To follow legal requirements, the company wanted to implement Exchange disclaimers for 175 users. They also wanted to revamp their marketing branded look by adding unified graphics to all outgoing emails. Exchange 2010 Hub Transport was not up to the task and they had to resort to a third-party solution.
Solution
Daniel Pothier, SVP – Technology of Wealth Enhancement Group, came across CodeTwo Exchange Rules Pro. He said the program is "very easy to use. It's powerful and easy to set up and test the first rule without reading a manual. It also has many features I didn't expect". "The tool automates a lot of our work. I don't think we have even begun to use it, despite having implemented what we bought it for. Nonetheless, we weren't really able to implement a compliance requirement without it."
Summary
| | |
| --- | --- |
| Company name: | Wealth Enhancement Group |
| Number of employees: | 165 |
| Number of emails processed every day: | 10,000 |
| Server type: | Exchange 2010 |
| Number of servers: | 2 |
| Problems: | Inability to enforce compliance required signature disclaimers and marketing branded look. |
| Solution/Product: | CodeTwo Exchange Rules Pro |
| Installation type: | company-wide |
| Installation time: | 6 hours |