CodeTwo Exchange Rules Pro
Centrally managed email signatures, disclaimers, marketing banners and email flow control
Support for all email clients (including Outlook and mobiles)
Used by thousands of companies around the world
Windows Server certified
Download
30-day free trial with support;
no credit card required
Customer Case Study
TV18 Broadcast Limited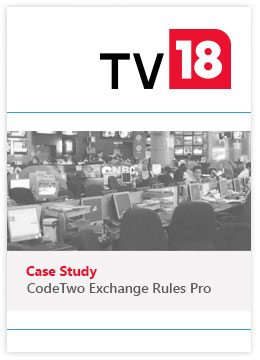 Company description
TV18 Broadcast Limited located in India is a very popular television broadcasting network. They provide entertainment and information through many national and regional channels. Facing the challenge of providing fresh news from India for the viewers from all around the globe, they broadcast News18 India, a 24-hour news channel, accessible from the whole world.
Problem
TV18 Broadcast Ltd cares a great deal about branding. They are determined to use each opportunity to show as a top-class organization and as a great employer. One of the steps to ensure that, was to unify email signatures throughout the whole organization. However, with over 8000 employees, the task proved to be more than a little problematic. Setting a unified email signature through native Exchange mechanism turned out to have many flaws. Apart from being time-consuming, mail flow rules did not support inline pictures and failed to apply for mobile users. Trying to design and manage email signatures for different departments put too much strain on the IT Department, which has more than just email signatures to worry about.
Solution
Mr. Vinayak Sangal, Senior IT Manager in TV18 Broadcast Limited committed himself to finding a solution to the issue. He needed to find a tool which would provide an easy and certain way to manage email signatures and to add them automatically to all messages. Mr. Sangal found the highly recommended CodeTwo software, which seemed to be just what his company needed. He immediately started a free trial to test if it is not too good to be true. CodeTwo Exchange Rules Pro turned out to be exactly what they were looking for. The program adds email signatures automatically to every email message and is easy to use. Mr. Sangal is especially happy about how many options are there so that the software meets all the requirements of the company and more. CodeTwo Exchange Rules Pro, thanks to its WYSIWYG HTML editor allowed to create email signatures with inline pictures easily and quickly, letting their graphic designer's imagination cut loose.
Summary
| | |
| --- | --- |
| Company name: | TV18 Broadcast Limited, India |
| Number of employees: | 8000+ |
| Number of emails processed every day: | 5000 sent to external domains |
| Server type: | Exchange 2013 |
| Problems: | Not being able to add email signature for users automatically |
| Solution/Product: | CodeTwo Exchange Rules Pro |
| Installation type: | 8000 users |
| Installation time: | 2 weeks from download to full deployment |