CodeTwo Exchange Rules Pro
Centrally managed email signatures, disclaimers, marketing banners and email flow control
Support for all email clients (including Outlook and mobiles)
Used by thousands of companies around the world
Windows Server certified
Download
30-day free trial with support;
no credit card required
Customer Case Study
St Andrew's College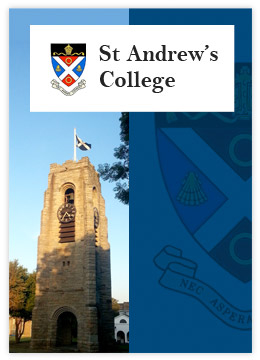 Company description
St Andrew's College in Grahamstown, South Africa was founded in 1855. The prestigious, innovative and independent Anglican boarding school caters for 450 boys from all over the world, from the eighth grade to high school.
Problem
The school employs several hundred employees and shares the IT infrastructure with two other facilities. The administrators tried to set up an organization-wide policy for email signatures and disclaimers to ensure a unified and professional design, but the task absorbed a lot of time and took the focus away from other important work.
Solution
Anton Redelinghuys, the IT Administrator at St Andrew's College, saw that he was wasting a lot of time on enforcing a uniform design for signatures and disclaimers for employees' emails. When looking for a centrally managed automatic alternative to Hub Transport rules he soon found CodeTwo Exchange Rules Pro and installed it on his Exchange Server 2010. In only 30 minutes he was able to create rules in the program that inserted a standard footer in every outgoing message. An intervention on the part of the end user was no longer necessary. "CodeTwo Exchange Rules Pro is a well thought out and written piece of software which does exactly what it's advertised to do and which does it well." Mr. Redelinghuys said. "Prior to implementation, we struggled to maintain uniformity of signatures and disclaimers across the three school campuses which we as an IT department are responsible for. After implementation it's an absolute breeze, freeing up IT resources for other tasks." - he added.
Summary
| | |
| --- | --- |
| Company name: | St Andrew's College, Grahamstown, South Africa |
| Number of employees: | 370 |
| Number of emails processed every day: | ca. 4000 |
| Server type: | Exchange 2010 |
| Number of servers: | 1 |
| Problems: | Implementation of a centralized policy for email signatures and disclaimers |
| Solution/Product: | CodeTwo Exchange Rules Pro |
| Installation type: | 1800 mailboxes |
| Installation time: | 30 minutes |