CodeTwo Exchange Rules Pro
Centrally managed email signatures, disclaimers, marketing banners and email flow control
Support for all email clients (including Outlook and mobiles)
Used by thousands of companies around the world
Windows Server certified
Download
30-day free trial with support;
no credit card required
Customer Case Study
Silgan Containers Corporation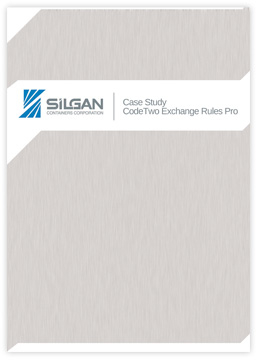 Company description
Silgan Containers is the largest provider of metal food packaging in the U.S. Although Silgan officially became a company in 1987, its history reaches back to 1899. It was then that Carnation brands began packaging evaporated milk, marking the first of many progressive events leading to Silgan Containers and how the company exists today.
Problem
Silgan Containers Corporation process 6000 emails every day. The company needed software that would enable easy, centralized customization of the correspondence. Microsoft Exchange did not fulfill their expectation in terms of placing images into e-mails. Furthermore, the company required a solution that would ensure images embodied into emails are correctly displayed on mobiles. That can be done with a use of program equipped with a proper HTML email templates editor.
Solution
Howard Gripp, IT Networking & Support Manager of Silgan Containers Corporation, found CodeTwo by Google search. After he implemented CodeTwo Exchange Rules Pro in his environment, he reported: "Microsoft Exchange provides no way to embed images into emails. Exchange Rules Pro allows us to do this. It also gives us a rich editing platform to perform these modifications." He also added: "It allowed us to embed pictures into an outgoing email. It also let us force HTML format for messages which made emails from mobile devices contain the picture as well."
| | |
| --- | --- |
| Company name: | Silgan Containers Corporation |
| Number of employees: | 5,000 |
| Number of emails processed every day: | 6,000 |
| Server type: | Exchange 2010 SP1 |
| Number of servers: | 4 |
| Problems: | Centralized management and easy modification of e-mail signatures, e-mail images correctly displayed on mobiles |
| Solution/Product: | CodeTwo Exchange Rules Pro |
| Installation type: | 1500 mailboxes |
| Installation time: | 1 day |