CodeTwo Exchange Rules Pro
Centrally managed email signatures, disclaimers, marketing banners and email flow control
Support for all email clients (including Outlook and mobiles)
Used by thousands of companies around the world
Windows Server certified
Download
30-day free trial with support;
no credit card required
Customer Case Study
Kingston College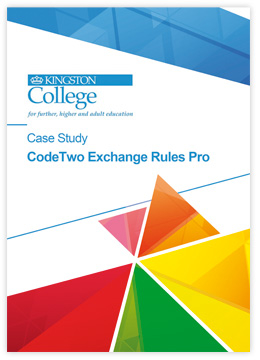 Company description
Kingston College is a successful and growing provider of post-16 education and training in South London, playing a crucial role in providing for the learning needs of young people and adults in Kingston and the surrounding area, and helping local employers to develop responses to a wide range of training needs. They enrol over 10,000 full and part time students each year in areas as diverse as Engineering, Art and Design, Performing Arts, Sports, Health and Care, Business, Travel and Tourism, Management and Professional Studies, Science, Computing, and Hair and Beauty.
Problem
Kingston College employs almost 900 people most of whom utilize their Exchange Server to host their email accounts. There are approximately 3000 emails processed every day, sent to and from Kingston's employees. Prior to purchasing CodeTwo Exchange Rules Pro, their Marketing team had been constantly looking for a solution that would let them centrally manage email signatures to make them consistent and to give them a professional look. What is more, a key requirement was the ability to hide signature fields which are empty in Active Directory. The built-in Exchange 2010 rules were not sufficient for their needs.
Solution
Andy Hetherington, Head of Information Systems and Services of Kingston College, found CodeTwo Exchange Rules Pro in Google. He decided to give it a go since the program was not only able to meet all Kingston's Marketing team requirements but it was also equipped with an option to hide blank AD spaces in email signatures. "It does exactly what we require and is very easy to install and use", Hetherington said. "The software helps us to manage the signatures centrally and does more than what Exchange 2010 offers out of the box. CodeTwo is a company that produces professional software that actually does what it says on the tin."
Summary
| | |
| --- | --- |
| Company name: | Kingston College |
| Number of employees: | 850 |
| Number of emails processed every day: | 3,000 |
| Server type: | Exchange 2010 virtualized |
| Number of servers: | 1 |
| Problems: | no centralized management of signatures, unprofessional design, inconsistent signatures. |
| Solution/Product: | CodeTwo Exchange Rules Pro |
| Installation type: | 1200 mailboxes – company-wide |
| Installation time: | 2 weeks |