CodeTwo Exchange Rules Pro
Centrally managed email signatures, disclaimers, marketing banners and email flow control
Support for all email clients (including Outlook and mobiles)
Used by thousands of companies around the world
Windows Server certified
Download
30-day free trial with support;
no credit card required
Customer Case Study
Investment Property Databank Limited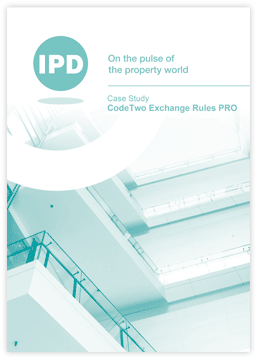 Company description
IPD (Investment Property Databank) is the world leader in performance analysis for the owners, investors, managers, and occupiers of real estate. The company provides independent consultancy and advice on real estate investments.
Problem
Email correspondence is one of the most important communication channels for IPD. As they provide professional business services, it is also crucial for them that all corporate messages sent to customers have a professional and unified look. Although the company uses Microsoft Exchange Server 2010 as a basis for their messaging system, the built-in disclaiming features of Exchange 2010 didn't match their standards. Investment Property Databank Limited needed a simple, but a yet flexible tool for managing employees signatures globally and without end-users' interference.
Solution
The IT Director of IPD already knew CodeTwo Exchange Rules Pro and recommended this solution to the company's system administrator. One of the key factors that influenced their decision on choosing CodeTwo Exchange Rules PRO was the professional approach the program's website showed. It quickly turned out the program works as described in the online documentation, which together with online video tutorials made the initial installation and configuration much easier. The program helped the company implement a unified look of all outgoing messages, which is now in keeping with the company's visual identity and contains all the necessary legal information. Signature templates are managed centrally on the server and users' individual information is pulled from Active Directory without their interference. These features, according to IPD's Network and Systems Analyst Kamlesh Hirani, are the most valuable aspects of using CodeTwo Exchange Rules Pro. "The program is excellent and does allow us to customize signatures and templates globally without user interaction", Hirani says.
Summary
| | |
| --- | --- |
| Company name | Investment Property Databank Limited |
| Number of employees | 350 |
| Number of emails processed every day | 150-200 |
| Server type | Microsoft Exchange Server 2010 |
| Number of servers | 5 |
| Problem | Central management of users' signatures; making changes to signature templates without users' interference. |
| Solution/Product | CodeTwo Exchange Rules Pro |
| Installation type | company-wide |
| Installation time | 1 hour |