CodeTwo Exchange Rules Pro
Centrally managed email signatures, disclaimers, marketing banners and email flow control
Support for all email clients (including Outlook and mobiles)
Used by thousands of companies around the world
Windows Server certified
Download
30-day free trial with support;
no credit card required
Customer Case Study
Davis LLP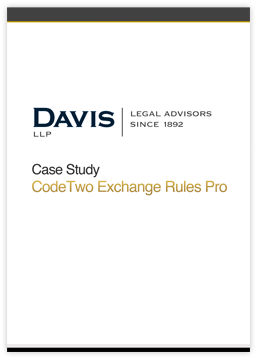 Company description
Davis LLP is a leading full-service international law firm whose professionals provide straightforward, comprehensive legal services from offices across Canada and in Japan. More than 240 legal advisors and consultants in almost 50 practice areas represent financial, corporate and government organizations and individuals.
Problem
They already had a 3rd party disclaimer and signature solution in place. "Despite being very highly rated we found that it performed poorly adding up to 30% extra CPU load to the Exchange servers. In turn, this affected the performance of other Exchange services - some features did not work as intended or with limitations." – said Matthew McIntosh, Senior Analyst of Davis LLP. "Building signatures was easy enough, however getting them to appear in emails as intended proved to be challenging and often required delving into the HTML code to resolve."
The administration of the signatures had to be handled by IT staff as there was no remote console available to delegate access to the Marketing team. As a result the program was not being used to its full potential and was hindering Marketing's ability to roll-out firm-wide email signatures.
Solution
Matthew McIntosh found CodeTwo while researching Exchange peer forums. "CodeTwo Exchange Rules PRO was always mentioned favorably. This weighed heavily on the decision to switch to this program as real world experiences mean more than marketing hype. We ran up this solution in our dev environment to confirm what we had read. It became apparent very quickly that CodeTwo Exchange Rules PRO was a good product." – McInstosh said.
"It's easy to install, has a clear interface and is very intuitive. Currently we are running CodeTwo in a dev environment and are ready to go to production. Setup was quick and painless and we were able to create our standard signature in minutes pulling information from Active Directory and making use of the Outlook-like template editor.
Since installing CodeTwo Exchange Rules PRO we have noticed a significant freeing of resources on our Exchange servers. In fact CodeTwo Exchange Rules PRO barely makes itself noticed. No longer are we receiving a barrage of performance alerts. Overall the end-user experience is just that little bit quicker now.
Signature creation is snap. The ability to create RTF and Plain Text signatures from the HTML with the click of a button is a real time saver, as is the ability to preview Active Directory fields from the design window. The Rule Tester is also a great addition allowing us to test real world scenarios from the console before putting the new rules into production.
CodeTwo Exchange Rules PRO allows us to delegate control of signature creation to the Marketing team while also allowing IT to keep control of the overall flow of email and processing rules. This will free up time spent by IT personnel trying to design templates to look just the way Marketing has envisioned them.
CodeTwo Exchange Rules PRO also introduces possibilities that we had not even considered under our previous solution such as time of day based rules and compressing of attachments. This gives us something to take back to the business as a value add to the simple requirement of disclaiming emails."
Summary
| | |
| --- | --- |
| Company name: | Davis LLP |
| Number of employees: | 580 |
| Number of emails processed every day: | 53,000 |
| Server type: | Exchange 2010 |
| Number of servers: | 2 |
| Problems: | server overload caused by a previous 3rd party signatures and disclaimers solution, problems with HTML signatures design, marketing staff was unable to create rules and signatures, additional work for IT staff. |
| Solution/Product: | CodeTwo Exchange Rules Pro |
| Installation type: | company-wide |
| Installation time: | 2 hours (including removal of previous solution, install of CodeTwo Exchange Rules PRO on two servers, and configuration of disclaimers and basic signatures).; |