CodeTwo Exchange Rules
Email signatures, branding & disclaimers for Exchange Server 2019, 2016, 2013, Outlook & mobiles
Download
30-day free trial with support;
no credit card required
How many marketing opportunities do you lose each day?
If you do not add marketing information (e.g. banners) to your emails, you are missing a lot of marketing opportunities. See the calculator below to see how much exactly. Numbers don't lie:
Calculate your marketing opportunities
Each week a single user sends over 200 emails. This number grows up to 10,000 emails per year. On average, each email message will be opened 2 times. These numbers prove emails to be a great promotion channel.
Use this calculator to find out how many marketing opportunities you lose without standardized and branded email signatures in place.

Number of employees in your company:

Missed marketing opportunities (yearly): 8,760
Each year your 100-employee organization sends 1,095,000 emails, which are opened 2,190,000 times. This gives you a great chance to increase your brand awareness and boost your marketing campaigns. Assuming that an average click rate is 0.4%, it gives 8,760 conversion chances to press into service.
The marketing feed can form an integral part of the email signature together with the signature data. Since CodeTwo Exchange Rules allows for multiple rules to fire at the same message, you can add personalized signatures and email banners at once.
Your banners can include:
The latest info about your services or products
Newsletter subscription options
Discount information and coupon codes
Invitations to contests or drawings promoting your brand or products
Branding graphics
Anything else you can imagine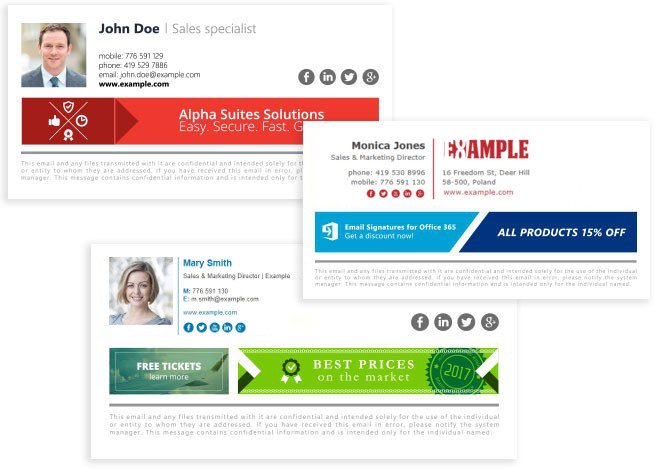 Click here to read more about marketing ideas with CodeTwo Exchange Rules in your company email.
Read more about ad banners:
Run Email Marketing with CodeTwo Exchange Rules
How to insert marketing banners to emails
How to rotate banners in your marketing campaigns
Learn how to track your email signature campaigns
If you need to add marketing banners to email signatures but in Office 365 (Microsoft 365), check out CodeTwo Email Signatures 365.