CodeTwo Exchange Rules
Email signatures, branding & disclaimers for Exchange Server 2019, 2016, Outlook & mobiles
Download
30-day free trial with support;
no credit card required
Customer Case Study
Bournville College – Education College, Birmingham, UK.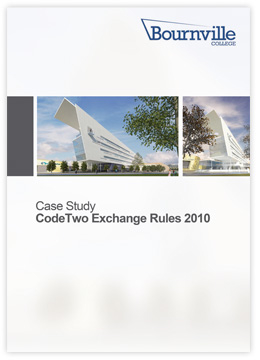 Company description
Bournville College is a further Education College located in Birmingham, UK. The facility is being moved to a new state of the art £66 million campus later this year.
Problem
Since the entire college is moving to a new, high-tech campus in 2011, they needed a tool that would greatly enhance their corporate image. There are 600 staff members and 13,000 students, 11,000 of which use Exchange mail and send over 3000 emails every day via their Exchange 2010. They had been looking for a solution that would let them do the following:
easily and swiftly create centrally managed email signatures for 11,000 users,
globally portray college's image in email correspondence,
promote the college using clickable, eye-catching graphics in email.
They quickly figured out that Exchange Server doesn't have this functionality so they had to resort to using a third-party tool.
Solution
Taz Hussain, Network Manager of Bournville College wanted to live up to the above mentioned requirements and started googling for third-party products that would let them boost Exchange Server capabilities. CodeTwo Exchange Rules 2010 turned out to be up to the task. "I was impressed. It took me 5 minutes to setup the program and then 10 minutes to create our basic design in the program", Hussain said. "The product is brilliant! It does what it says it will and does it logically. CodeTwo software allowed us to plug the gaps left by Exchange 2010 and have greater control on marketing campaigns. If all software worked this well, my job would be so much easier."
Summary
| | |
| --- | --- |
| Company name: | Bournville College |
| Number of employees: | 600 staff + 13,000 students |
| Number of emails processed every day: | 3000+ |
| Server type: | Exchange 2010 |
| Number of servers: | 3 |
| Problems: | create, implement and manage signatures for 11,000 users, boost company's image, run email marketing campaigns. |
| Solution/Product: | CodeTwo Exchange Rules 2010 |
| Installation type: | 3000+ mailboxes |
| Installation time: | 2 days |