CodeTwo Exchange Rules
Email signatures, branding & disclaimers for Exchange Server 2019, 2016, Outlook & mobiles
Download
30-day free trial with support;
no credit card required
Scalability and multiple-server environment support
CodeTwo Exchange Rules' cutting-edge architecture allows you to manage email signatures in large multiple-server organizations with equal ease and efficiency as in a small 50-mailbox office.
The enormous scalability of the program is achieved by splitting the roles of email signature design and deployment between two separate components:
The Administration Panel, in which you design email signatures and set up rules for where, when and how the signatures will be inserted into emails;
The Exchange Rules Service, which is actually a set of semi-automatic modules responsible for various aspects of executing the rules and managing message queues.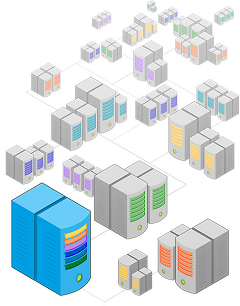 To be able to use CodeTwo Exchange Rules, you have to install at least one Administration Panel in your organization and one instance of the Exchange Rules Service on each message processing server. The Administration Panel will automatically connect with one of the Service instances and submit any saved setting directly to it. The Services then communicate with each other, distribute the settings and start applying them.