CodeTwo Exchange Rules
Email signatures, branding & disclaimers for Exchange Server 2019, 2016, Outlook & mobiles
Download
30-day free trial with support;
no credit card required
Quick and easy installation
Our mission aims to make our programs amazingly easy and intuitive to let you quickly install, configure and start fully utilizing them without learning new software. The installer is designed in line with those rules and is a NNF type - Next, Next, Finish.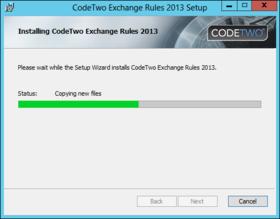 Once the installation has been finished, the program can be launched and you can immediately start using it without rebooting the server. CodeTwo Exchange Rules starts with a set of predefined rules to let you quickly begin using the program. You can modify the existing rules to meet your requirements, leave them inactive or simply delete them, and create your own ones from scratch. You can create as many rules as you want. Learn more about modifying the settings in CodeTwo Exchange Rules.
If the Exchange organization has more than one Exchange Server, CodeTwo Exchange Rules service should be installed on each machine with Exchange Server Transport service.