Email Disclaimers, Signatures, Branding for Exchange 2010, Outlook and mobiles

What's new in version 2.0
We worked really hard to roll out a set of new features beefing up CodeTwo Exchange Rules 2010. The final product is not just and updated version - it's a totally rewritten program with improved stability, new options and a revamped user's interface. Most of new features are based on feature requests from users like you. Thanks a lot for your thoughts and remarks. Please keep on sending new ones - we do read stuff from you and use your ideas to develop our solutions to live up to your needs. (Contact us)
Take a look at the list of the most important changes:
New user's interface
It's not a tweaked layout - we created everything from scratch basing on our experience gained while working on the latest solutions. The revamped user's interface is not only sleeker and more user-friendly - it's now equipped with new options to let you easily and quickly access all the major settings.
Here's what it looks like: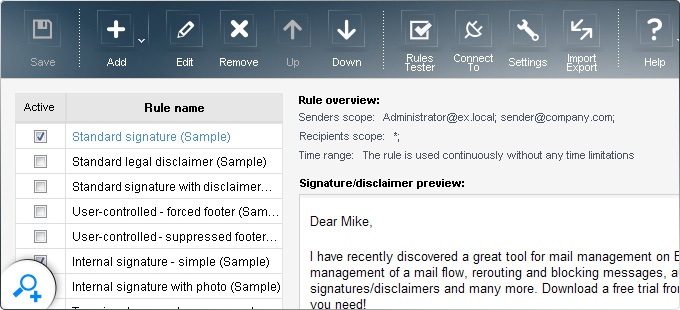 Remote access
Now you can add and centrally manage email signatures on Exchange 2010 from remote locations. The new version of CodeTwo Exchange Rules 2010 has been equipped with the "Connect to" option to let the Administrator access other CodeTwo Exchange Rules 2010 agents. You can use it e.g. to quickly replicate settings to the other servers. You can also give selected users access rights to rules and settings to let them create and manage various email campaigns all by themselves without having to access the server machine.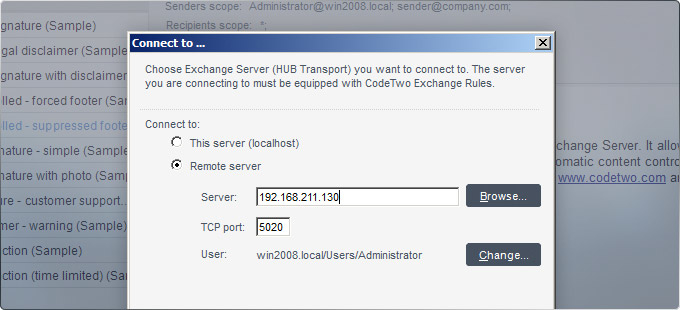 Rule scheduler
Now it's possible to plan in advance when an email rule should start and end. It's great for marketing campaigns and for other actions that would require you to fire the rule at specific time only. CodeTwo Exchange Rules 2010 makes it easy to schedule rules by choosing predefined or custom intervals.
User's photographs in signatures
Now you can create email rules adding signatures with employees' photographs. If not in outgoing mail, it's also a perfect way to retain a human touch in internal company correspondence. You'll only need to add your users' pictures to Active Directory (use this free tool) and then add a Photo placeholder to your signature template - it's as easy as pie.
The photographs will be added to signatures from Active Directory's thumbnailPhoto attribute on the fly making your business correspondence even more personalized.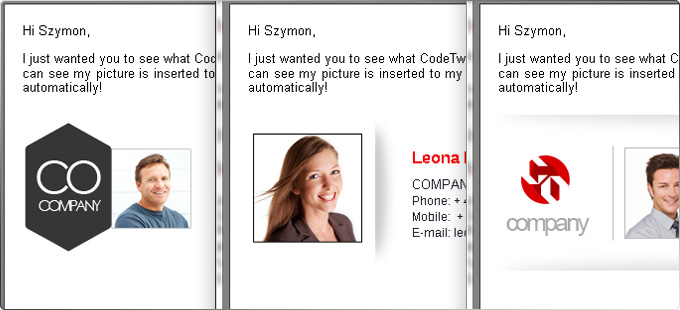 QR codes in signatures
We did not stop on employees' photographs in signatures and went even further by adding a QR code generator that adds personalized QR Codes with Active Directory data to signatures at Exchange 2010. You can now enrich your disclaimers and make them also suitable for mobile users who can quickly copy encoded info and save it directly to their phones.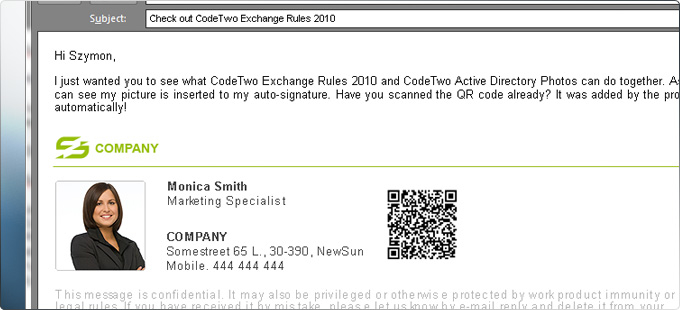 Footers and headers
Apart from the traditional signatures below your email, you can also stamp custom text with graphics as a message header at Exchange 2010. It's perfect for predefined welcome sentences, legal disclaimers, marketing banners or any other info that has to be noticed by the recipients before they read the message.
User control over signatures
Although the signatures from CodeTwo Exchange Rules 2010 are automatic, you can set up your rules to let selected users control this process. The program will let you pick users who can manually decide if the signature is inserted or not, e.g. by typing a set of secret keywords (which can be removed before the message reaches its recipients) into the email body or subject. This gives your users more control of what is sent with their email.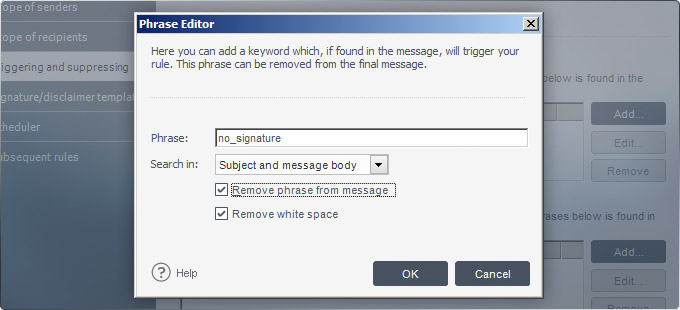 New Rules Tester
As the name suggests, this tool lets you test your settings without leaving the program, creating test users or asking existing users to send emails back and forth. This feature emulates an email client, uses real settings but only virtually sends the messages to Active Directory users and other SMTP addresses. You can quickly view inboxes of all users who received a mock message and make sure the signature is appended correctly.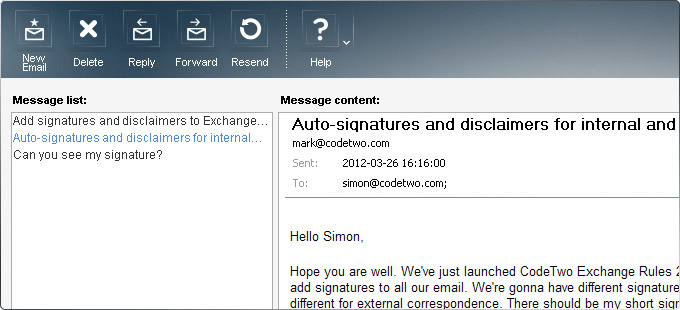 Image and template library
The signature editor makes inserting images to email signatures a breeze. If you are familiar with word processors like MS Word or blog editors, you already know how to do it. If you don't have time for designing your template, you can use one from us. The program is equipped with a library a professional, ready-to-use email signatures and a bevy of images that will boost your signature's look and your brand.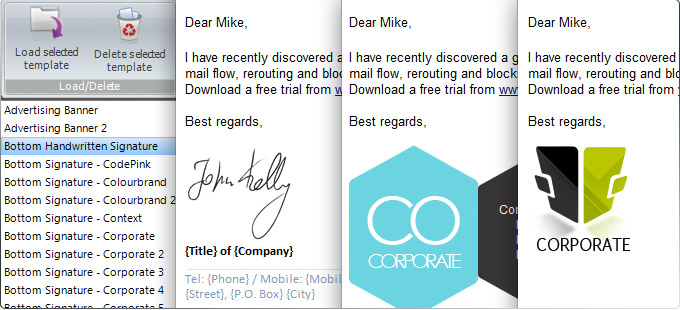 Import/Export tool
If you need to create settings backup, move or restore your setup, or to migrate the entire program to a different machine, you can use the Import/Export tool of CodeTwo Exchange Rules 2010.
How to upgrade to version 2.0?
If you are already a CodeTwo Exchange Rules 2010 user, you can upgrade your program to version 2.0 by purchasing the new license at a discounted price. For detailed pricing, go to the Pricing section. Feel free to contact us if you have any questions.