CodeTwo Exchange Migration
Migrate Exchange 2007 directly to Exchange 2016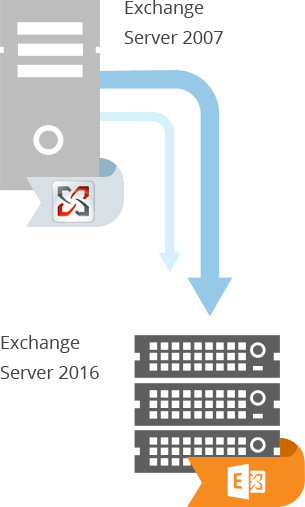 The distinctive structures of both Exchange 2007 and Exchange 2016 versions are not supported for coexistence, so the migration from the earlier version to the newest is a rather problematic task that would require a cross-forest mailbox migration. And Exchange Server does not provide sufficient fixes to make it happen for you. Don't worry, we provide a perfect solution with no risk of stepping into meanders of "double hop" migrations.
CodeTwo Exchange Migration is a specially designed tool that allows for direct migration from Exchange 2007 to Exchange 2016. With easy-to-use interface and fully automatic setup features CodeTwo Exchange Migration significantly reduces the time needed to perform your full and smooth migration. You don't have to upgrade your 2007 version anymore, and install Exchange 2010 or 2013. Thanks to Code Two Exchange Migration, Exchange 2016 is now an open way to migrate to.
Key features:
Direct migration from Exchange 2007 to Exchange 2016
Easy cross-forest migration of Exchange Server mailboxes
Full service availability during the migration.
Public folders migration
Configuration wizard and migration checklist
Migration reports
Time filters for migrated items
Self-service application
Free technical assistance during the configuration
---
---
How does it work?
CodeTwo Exchange Migration is a self-service and user-friendly application that deals with Exchange migrations. It doesn't require any additional assistance of 3rd party services throughout the process of deployment and use. A user with domain admin privileges is in full control of the data transfer during a cross-forest migration. The installation process is very straightforward, and the program is set up on one of the computers within the source Active Directory domain.
Operating CodeTwo Exchange Migration comes with full easiness, as the program is specially designed to enhance simplicity in performing admin's everyday duties, ensuring reliability and effectiveness. In order to begin a cross-forest migration, the application needs to establish connections with source and target Exchange Server domains by using a dedicated configuration wizard. It will also run a few checks on the migration checklist to assess both machines readiness.

The program has been equipped with a feature of migration jobs. Migration job is a task in which you add users' mailboxes that need to be migrated, specify the type of folders you want to include in the migration job or what time filter apply.
While pairing users' mailboxes you can use the Automatch feature, which automatically matches mailboxes from the source with those from the target server. This feature relieves an administrator of the necessity of matching mailboxes manually. The matching is realized accordingly to <FirstName> <LastName> pattern, linking up the respective boxes.
After assigning mailboxes to their equivalents, you can set a migration to start or arrange it to be triggered later using the Scheduler option. You can monitor the progress of the whole migration in the main display window of the program and observe all active processes performed on mailboxes.

CodeTwo Exchange Migration is programmed to create copies of mailboxes in the target Exchange 2016 domain using the data on the source Exchange 2007 domain. The application doesn't remove any data, it just performs its pure replication to the target location. Generated log files will provide a necessary insight once the migration of an each mailbox is completed. CodeTwo Exchange Migration aims to provide smooth and safe migrations of mailboxes with full availability of the service.