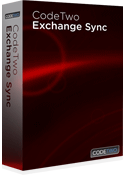 ---
Date Published: 06 Nov 2018
Latest Version: 2.8.5.32
Size: 22.6 MB
---
Supported platforms
Windows Server 2016(1) / 2012 R2 / 2012 / 2008 R2 SP1
Windows 10(2) / 8.1 / 8 / 7
Small Business Server 2011 / 2008
Exchange Server 2013 / 2010 / 2007
Support for 32-bit and 64-bit versions
.NET Framework 4.0 or higher required
(1) If you can't find the program after the installation, consult this KB article.
(2) If the program doesn't work after upgrading to Windows 10 from Windows 7 or 8.1, you need to reinstall it.

---
---
Thank you for downloading CodeTwo Exchange Sync
The product you are about to download (CodeTwo Exchange Sync) is mailbox folder synchronization manager for Microsoft Exchange 2013, 2010 and 2007.
Your download will begin in a moment. If it doesn't, click here to try again.
The program can be installed on a machine that is equipped with any operating system specified in the system requirements and has connectivity with the Exchange server(s) on which the data synchronization occurs. It is recommended to install the application on the machine that is powered on at most times. Warning! You must not use CodeTwo Exchange Sync on the machine equipped with MS Outlook 2010 x64. More about the installation.
Suggested Reading:
Trial version
The free version of the program is fully functional and its only limitation is that expires after 30 days of installing. More.
Full version
To update the free version of CodeTwo Exchange Sync to full version, enter the License Key in the free version. You do not need to reinstall the program. All settings from the demo version will be kept. The License Key can be obtained by placing the order for the software. Go to Pricing.
Upgrade
The previous version of the application 1.0 was named CodeTwo FolderSync. The upgrade from CodeTwo FolderSync to CodeTwo Exchange Sync is free of charge!