Group Calendar on Exchange Server
CodeTwo Exchange Sync enables quick and easy setup of an aggregate calendar view for multiple employees.
Let's assume there are 6 employees working on a certain project. They record their activities and planned actions in the Outlook calendar. But at the same time, each person would like to see other team members' calendars in one view to see the projects progress at a glance. This requirement is met by using the standard features of Microsoft Outlook, which enables displaying multiple calendars in one view. This is however time consuming and inconvenient as the administrator would first need to set the appropriate access rights so that each employee can read calendar data of all the other five employees. What is more, when we want to browse multiple calendars in Outlook, 6 different calendars need to be checked.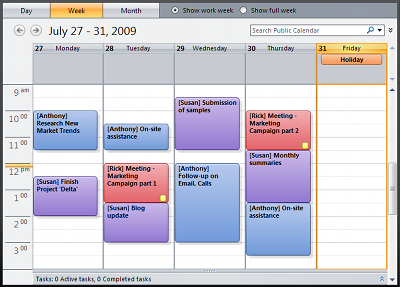 Group calendar view can be created much more quickly with the aid of CodeTwo Exchange Sync. The only thing that needs to be done is create a one-way synchronization task, in which appointments from multiple calendars of employees engaged in the project will replicate to one shared calendar, preferably a public folder. With this approach, only one click is needed to go to the public folder and see an aggregate view of calendars belonging to six employees. In addition, this calendar will be accessible outside the office via Web browser using Outlook Web Access (OWA) or on mobile devices as well.
CodeTwo Exchange Sync provides functionality that facilitates the management of data located in the shared calendar. There are the filters that can be used to define which appointments will be copied to the shared calendar. For example, you can exclude appointments marked as private, copy only the appointments not older than a set date, or those tagged with a category. Also, there are the modifiers that enable on-the-fly changes to the items before they are saved in the public folder so they carry additional information e.g. the category may help identify the calendar the copied appointments originated from.