Filters - Choose Precise Data to Synchronize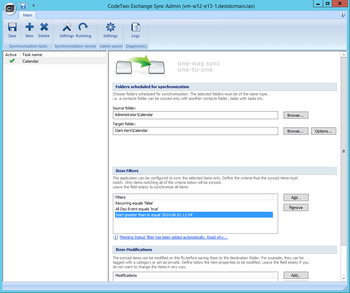 By using filters, CodeTwo Exchange Sync lets the administrator precisely control if the synchronization will include all items contained in the folders or only the selected ones.
The filters will prevent replication of items to the target folder(s) that do not meet the defined criteria. For example, the administrator can configure the program to synchronize between calendars the (appointments) with a specified word in the subject, are not older than 7 days, are tagged with 'Business' category, and finally are not marked as private by respective users.
In CodeTwo Exchange Sync there are many filters of various type, the access to some of which depends on the type of items you sync. For example, contact items will use a phone number filter that is unavailable for other types of data.
The filters render CodeTwo Exchange Sync practical in a number of scenarios. It can be used for instance to monitor user inboxes. If a message with a specified word in its subject or from a specified recipient lands in the inbox, this message can be copied without user's interference to a selected mailbox or a public folder.