Hi Exchange admins! Let's focus today on the next feature of CodeTwo Exchange Rules Pro which definitely deserves your attention – the status bar in your Template Editor. As you already know, CodeTwo Exchange Rules Pro is an e-mail management software, providing a sophisticated Template Editor that allows you to create beautiful and stylish e-mail signatures, banners and footers. Bearing in mind how important it is to maintain a professional look of your brand identity, the application has been equipped with highly advanced edit features that let you efficiently and pleasantly work even with the very complex signature layouts.
See below an exemplary e-mail signature, imported from the built-in signatures library of CodeTwo Exchange Rules Pro.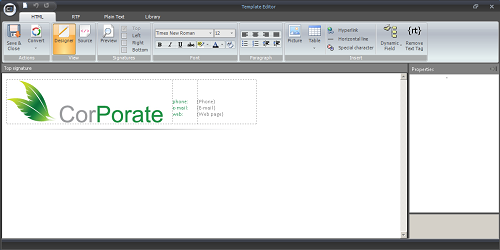 As you can see, all the top elements of the signature are placed in the table. It is obviously a preview table that will not be visible in a message (unless you set a border size above 0). You can identify at the first sight, some of the most popular edit functions displayed in the Template Editor's ribbon. So if you want to modify your signature details, such as a phone number, e-mail address or web page name, you might highlight them like in the image below: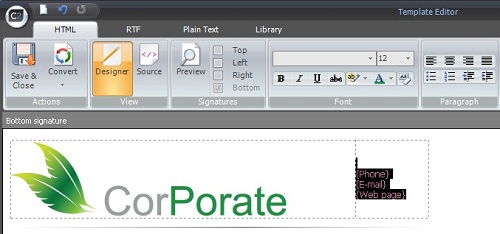 The next thing you are most likely to do, is to go to the top ribbon's section called Font and select a proper font type, size, colors etc. Will it work this way? Yes, it certainly will work in this case, but how about modifying the table's cell or row? You will not do it analogically, because the visible ribbon's settings do not apply to the HTML elements, such as row, cell or a whole table. If, for example, you want to change a background color of the chosen single cell, you should now look at the bottom bar of the editor. It is more functional that you may expect as it displays the selected HTML elements of the table, e.g. <BODY>, <TABLE>, <TR> or <TD>. See in the picture below, the whole cell is being selected, so the <TD> element is being highlighted in the bottom status bar.

Now you can access a full palette of options and modify the selected element according to your needs. You just need to use the Properties section that appears on the right hand side. Notice that the Properties table also informs you what HTML element has been tagged (see the name next to the Tag cell in the second column of the table). Using the Properties options, you can easily change a background color of the selected cell (let's select a blue color for the presented cell) or go to the Style window to work with more advanced settings of the cell's fonts, background and border. For the exemplary e-mail signature, the cell's border-style is being now selected as grooved, thick and green. See below: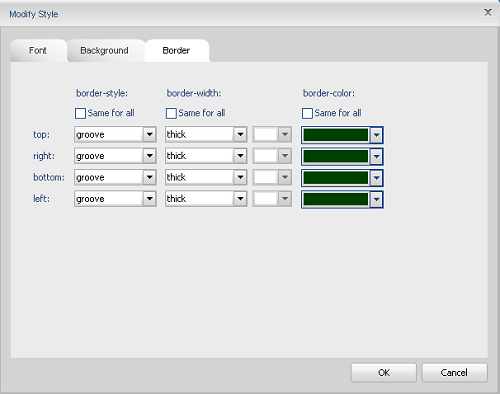 This is what it looks like after the settings have been applied:

As you can see, each HTML element of your signature or footer can be modified within a few clicks. This is all you need to know about the status bar. Just remember that this feature is always at your fingertips to streamline your design work when making complex e-mail signatures.
If you want to find out more about Template Editor's functions, see our user's manual. If you do not have a program yet and wonder if it suits your company's needs, go to the program's information page and see all its main features.
CodeTwo Exchange Rules Pro overview
CodeTwo Exchange Rules Pro – download
CodeTwo Exchange Rules Pro – take a tour
Compare the program with MS Exchange