We have just released updates to 3 applications from our CodeTwo Exchange Rules product family and CodeTwo Exchange Rules Pro. The current release brings a number of fixes and significant improvements to our email signatures and disclaimiers management software for Exchange Server. The most important changes include: the brand new HTML template editor engine and the new Social link functionality. Our developers also took care of some minor bugs users have reported recently.
New HTML template editor
The HTML editor has been in fact rewritten from scratch by our developers. Although the UI remained almost unchanged, the engine is totally new. Our goal was to improve its overall performance. What we ended up with is completely new code that not only increased the speed of the application but also eliminated many small imperfections the old editor had. Our internal tests show significant improvement in that field. We can't wait to know your feedback when you install the updates in your environments!
Social link placeholder
The new editor gained also a feature that can be especially useful in terms of email marketing. It is now possible to use new Social link placeholders in email signatures containing links, icons and labels of users' social media profiles. This feature is accessible directly from the editor's main ribbon and lets the administrator customize each social link according to a pattern he or she chooses. For instance, the URLs to users' profiles can now be pulled from AD custom attributes, or other properties. The link formats of popular social media platforms are already included in the program.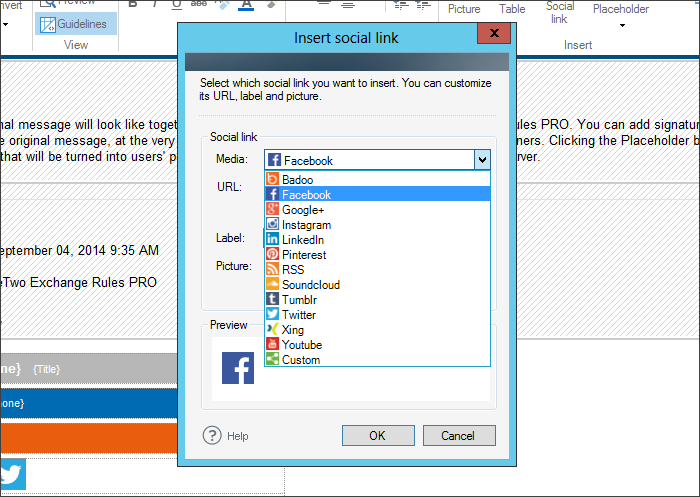 Get the update!
The update is now available on official product pages of CodeTwo Exchange Rules 2007, 2010, 2013 and CodeTwo Exchange Rules Pro. The update is free of charge for all users updating their CodeTwo Exchange Rules software within the current version number (first digit of your version must be the same as the first digit of the current release). To get more information on the current update please check the version history of CodeTwo Exchange Rules 2007, 2010, 2013, or Pro.
To download the update for your CodeTwo Exchange Rules installation, simply head on over to the links below:
Get CodeTwo Exchange Rules 2007 4.3.0
Get CodeTwo Exchange Rules 2010 3.3.0
Get CodeTwo Exchange Rules 2013 2.3.0
Get CodeTwo Exchange Rules Pro 2.3.0