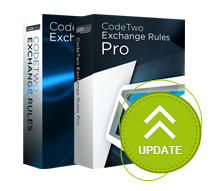 Our email signature and disclaimer management tools have been just updated. The newest versions bring some major bug fixes as well as significant improvements to the built-in Rules Tester and the editor.
Additionally, we're excited to announce that CodeTwo Exchange Rules Pro is now compatible with Exchange 2016!
NOTE: A standard version of CodeTwo Exchange Rules dedicated for Exchange 2016 server is coming out soon.
The most significant changes in all Exchange Rules versions include:
Possibility of testing newly created rules without the need for hitting the "Submit changes" button unless the testing procedure is finished. It means that you can create a rule, test it in the Rules Tester, and then if it works as expected save it so that it can be used in the production environment;
Improvement of the Processing Trace feature. Now you can view only those rules that were actually executed by the program;
Refurbishment of the Rules Tester's UI;
Many bug fixes, e.g. improvement of the "Remove old signature" action that did not remove an entire signature in some specific situations.
Get the update now!
To get the newest version of the program, follow the links below or visit official product pages of CodeTwo Exchange Rules 2007, 2010, 2013 or CodeTwo Exchange Rules Pro. All current licensed users of CodeTwo Exchange Rules programs can obtain the updated version at no additional cost if the first digit of the version they use is the same as the first digit of the current update.
To find out more details about fixes and changes implemented in this update, please go to version history of CodeTwo Exchange Rules 2007, 2010, 2013 and Pro.
Select the proper program from the list below to download the update:
CodeTwo Exchange Rules Pro ver. 2.5.0
CodeTwo Exchange Rules 2013 ver. 2.5.0
CodeTwo Exchange Rules 2010 ver. 3.5.0
CodeTwo Exchange Rules 2007 ver. 4.5.0
In case of any questions feel free to contact us – we are available 24 hours from Monday to Friday.