As you know, our headquarters is based in Jelenia Góra, a unique town in the south of Poland, surrounded by the wonderful Giant Mountains (Karkonosze). Among its many charms, this country has undoubtedly one particularly important aspect  for the growing number of technological institutions that build their offices and research centers here: our talented programmers.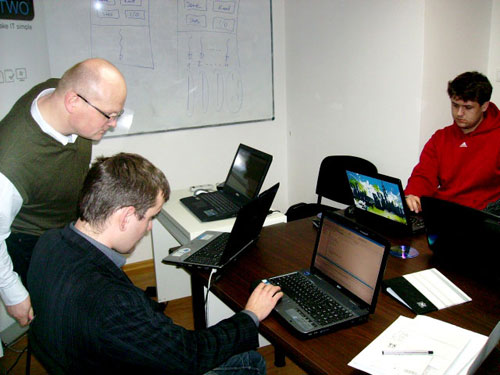 The level of education in the Exact sciences in Poland is very high. My American and British friends claim some of the subjects on the Polish curriculum of Mathematics at secondary school are not introduced until University level in their respective countries.
So maybe because of the early 'mind-exercises', Polish young programmers evidently distinguish themselves with impressive achievements in worldwide programming contests. We can also be proud of  TopCoder international competitions results: in the Algorithm Category Poland is the 4th top rated country and Warsaw University takes the 2nd place among participating schools.
It is no wonder that our team is full of youthful energy and mental agility. Our doors are wide open for talented graduates. Recently, our company has been involved in educational enterprise for local IT students. A group of young computer "geeks" from 'InteleKKt', a school IT club, has been participating in practical workshops conducted by CodeTwo specialists. The last meetings were devoted to SEO, website positioning strategies and multithreaded programming. CodeTwo give ambitious students a chance to broaden their knowledge of essential programming techniques. A comprehensive understanding of these issues increases their job prospects at CodeTwo.  Students are also motivated to choose subjects proposed by CodeTwo for their Final Engineering Projects.
Since CodeTwo is developing rapidly, successfully selling software worldwide, the new jobs are being created within the organization. Local students already know that early investment into their practical skills will pay off in the near future when they try to join CodeTwo team. In fact, many skilled programmers from across the country come to CodeTwo, tempted with an attractive job environment as well as a beauty of this region, and have made significant contribution into achieving our company mission.
Find out more about CodeTwo
See CodeTwo products
See who trusted us