UPDATE: We are sorry, but CodeTwo Public Folders mentioned in this article has been discontinued. You can check the list of currently available CodeTwo products here.
Many offices in small and medium companies are really struggling how to share Outlook contacts between multiple users without using various server or Cloud solutions. One of Outlook limitations is that the Personal Folders .pst file cannot be accessed at the same time by multiple users, e.g. if few team members want to look at the same Personal Address Book they won't be able to. CodeTwo Public Folders is a perfect solution when it comes to sharing Outlook contacts, creating customer databases or setting up address books. All this, without the need to purchase Microsoft Exchange Server or use any Cloud sharing services.
Turn Outlook into company address book
There are two ways how you can use CodeTwo Public Folders as a great contact management tool: by sharing your personal contacts' folder with other Outlook users in your network, or by creating a new public folder which will act as a shared business contact database for your team. With a few simple steps you can share your personal contacts' folder with your team. This means that they will be able to access your private contacts' folder from their PCs. You can also set up various access rights to your folder – you can grant certain users full permissions, while others will only be able to view contacts. Apart from that, CodeTwo Public Folders allows you to share any other Outlook folders like tasks, calendars, emails and many more. Moreover, all shared folders are synchronized automatically and in real-time. This means that if you add a new contact or edit the existing one, others will see these changes immediately on their devices.
How to share your personal contacts' folder with others:
Open your Outlook and in its left pane highlight the contacts folder.
Right-click on the on the folder and the option list will open.
Choose Share this folder… and Access rights for the shared folder box will show up.
Click on Add users button on the bottom left corner and the list of available users will appear. Select users you want to share your contacts with. Click OK to save changes.
Now you can modify access rights to certain users by checking or unchecking a green tick in the access rights table.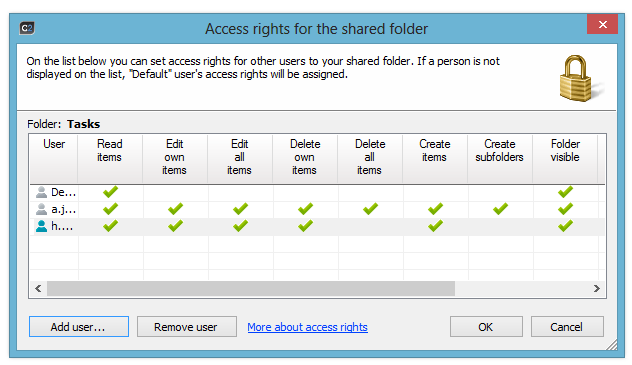 Thanks to CodeTwo software, each Outlook contact can be shared and there is no need to manually move or copy the contacts between mail clients. What is more, you can group the shared contacts using the standard Outlook folder hierarchy logic, which lets you organize them according to various useful criteria.
You can create a global company contact list available for all your teammates by using a common contacts folder in Outlook. Just create a new contacts folder in Outlook public folders tree (which is added to your Outlook after you install CodeTwo Public Folders) and add contacts that your company or department uses. Thanks to automatic synchronization feature, a new folder with contact list is immediately available to all your co-workers. This solution can also help segmenting customers and sending promotional emails to the specific target groups.
How to create a common company address book:
Create a contact folder in the public folders tree added by CodeTwo software. Learn more about creating new public folders in C2PublicFolders tree here.
In the folder properties go to the Outlook Address Book tab and check the Show this folder as an e-mail Address Book option.
In the Name of the address book field enter the name by which you want the folder to be known in the address book e.g. Company Address Book.
Open the Outlook Address Book and go to the folder you named a moment ago. In the address book all contacts with e-mail addresses from the public folder will be displayed. Now all network users will be able to use a common company address book.
Access Outlook contacts anywhere you go
CodeTwo Public Folders offers a dedicated applications for iOS and Android devices. Now you can work on shared folders from your smartphone or tablet no matter where you are. The apps securely synchronize Outlook public folders and your mobile device in real-time, all this without the need of using Cloud-based services.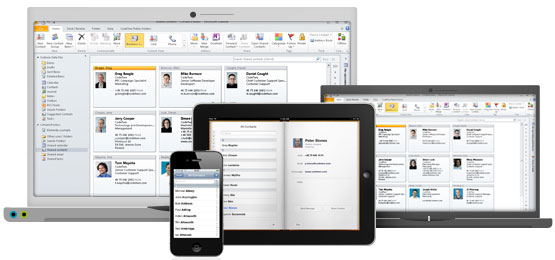 Since the program also supports access over Internet, laptop users with a mobile Internet connection or telecommuting employees can also stay up-to-date with company contacts wherever they are. Even if someone loses the Internet connection, the option to work in the offline mode will still let them use and modify shared contacts and other folders. Once they go back online, all data will be automatically synchronized with other computers.
Suggested reading: