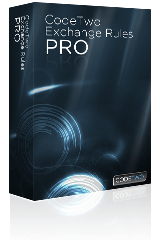 We are delighted to announce that CodeTwo Exchange Rules PRO, a long-awaited program for Microsoft Exchange Server is out now!
Unlike CodeTwo Exchange Rules, CodeTwo Exchange Rules PRO is not only a signature/disclaimer software for Exchange. It is a complete email management system that enables you to take full control over the flood of emails going everyday through your Exchange Server. Using CodeTwo Exchange Rules PRO, it is possible to set server-sided rules for Exchange mail, which cover such important tasks as mail filtering, email rerouting, autoresponding, email categorization, attachment control, email blocking, email signatures and disclaimers, and many more. With CodeTwo Exchange Rules PRO automatic email flow management and email content control on Exchange Server is now possible and it's amazingly easy.
One of our main goals was to make the program as easy-to-use and intuitive as possible. Eventually, it's exactly what our company's mission says. Therefore, CodeTwo Exchange Rules PRO is equipped with a completely new User Interface.
You can test CodeTwo Exchange Rules PRO in your environment for free for 30 days. Don't wait, download the program and set up your first rules now! We are looking forward to your feedback :)
Learn more about CodeTwo Exchange Rules PRO
Learn more about CodeTwo Exchange Rules PRO pricing
Download CodeTwo Exchange Rules PRO 30-day trial
CodeTwo Exchange Rules PRO User's Manual
CodeTwo Home