Microsoft Ignite starts in just a moment – November 4, 2019 – at Orange County Convention Center in Orlando, FL. As usual, CodeTwo will be there to stay up to date with all the news revealed by Microsoft. We'll also share what's new in our email signature management, migration and backup solutions. Join us at booth #2321.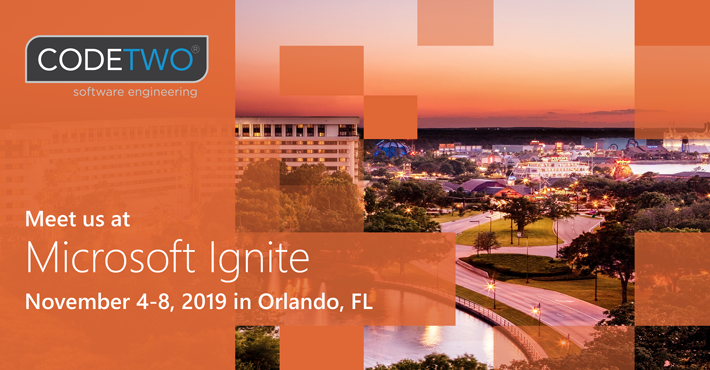 About Ignite 2019
For years, Microsoft Ignite has been all about productivity, collaboration and getting the most out of the available technology. This year, the focus is on getting practical skills, with more than 1000 sessions and over 200 hands-on experiences. If you want to get guidance from Microsoft's MVPs and representatives as well as other IT experts, this is an opportunity you cannot miss.
While the passes to Microsoft Ignite are long sold out, you can join the event online to watch livestream keynotes and on-demand sessions.
One of the most interesting news shared at Microsoft Ignite 2018 was the slightly rescheduled release of Exchange 2019 and, as usually, the Microsoft roadmap for the nearest future.
We can't wait to learn what's in store for this year's edition. Take a look at the video below for a quick Ignite 2018 recap:
Check out the MS Ignite's Twitter account to stay up to date with all the news.