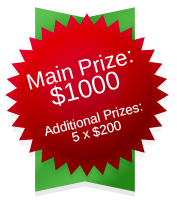 There are only less than two days left till the end of our testimonials contest. If  you want to give yourself a chance to win $1000 or additional prizes, you need to hurry. On Friday morning, we will collect all entries to a glass bowl and randomly select 6 lucky guys who will get the prizes. There are over 120 opinions from all over the world in the contest so far, but still we would love to see your testimonial among them. What do you have to do to take part?
The rules are very simple. To join the contest you need to submit a comment regarding any of our programs, either free or commercial, with a photo of you via the form on www.codewto.com/testimonials. The opinion must be between 200-500 characters long and has to express your feelings about using our software. Every comment is published on our website after it is accepted by the administrator. Please note that you need to submit a photograph showing your face, not your company logo – it's very important.
Go to www.codetwo.com/testimonials and join the contest now. On Friday afternoon (May 13, 2011) we will publish the results here on our blog and on the contest page.
Good luck and see you soon!