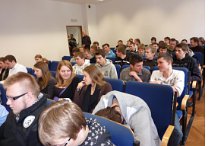 In the beginning of February we reported on an IT competition held in our town for students of local secondary schools. CodeTwo, a lead sponsor of this event, has prepared a tempting prize for the future IT revolutionaries – Sony PlayStation®3 – brand new and ready to set the virtual world on fire.
The first stage of the competition took place last week and a large number of contestants was quite a surprise for the competition hosts, Karkonosze College, a State Higher Vocational School. Paradoxically, according to the Dean of Technical Faculty, many participants are wondering how to win… 3rd place in the competition. Surprising at first, the idea makes more sense when you discover that the prize for the second runner-up is… Sony PlayStation®3!
The next stage of the competition takes place on April 15th. Good luck to all the participants, keep coding!